Do you also have itchy skin in hot weather?
In summer, less clothing and frequent skin contact with bed sheets can lead to mite bites. Dermatitis caused by excessive exposure to insect repellent or sunscreen. Fungus infection on towels due to humid air in summer. Sun dermatitis from too much sun exposure. All these reasons can cause your skin to become itchy and red. In severe cases, it can even lead to recurrent and irreversible skin inflammation.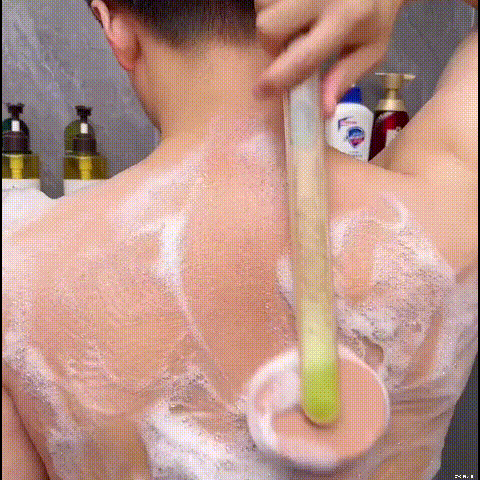 Our soft-textured brushes with over 1000 very fine bristles deeply cleanse your skin to better reduce damage caused by fungi and mites on your skin.
FEATURES:
Soft and non-invasive to the skin: The brush is made of more than 1000 PBT microfibers, soft and non-invasive to the skin, it will not make you feel tingling and will not leave visible scratches on your skin.
Deep cleaning: The extremely fine bristle brush is able to carry away dirt and mites from the skin surface when it touches the skin, reducing damage to the skin and relieving itching and redness.

Storeable body wash: Pour the body wash into the handle to prevent excessive contact with air, more hygienic and safer.

Quick drying is not easy to breed bacteria: No brush is very fine, so it is easy to be blown dry under ventilated conditions, not easy to breed bacteria, the gap between the brush is larger, more ventilation than ordinary towels and bath balls.

Extended handle: The extended handle design allows you to clean the back more easily and is more conducive to thorough cleaning.

Massage for relaxation: By repeatedly rubbing the body back and forth, it can have a massage effect and relax the mind.
SPECIFICATIONS:
Material: PP, PS

Size: 36cm / 14.2inch

Color: Pink, Yellow, Grey, Green

Design: Simple

Occasion: Home

Package: 1*Long Handle Bath Massage Cleaning Brush
NOTES:
Please allow slight measurement deviations due to manual measurement.

Due to the different monitor and light effect, the actual color of the item might be slightly different from the color showed on the pictures.