{"id":6972458729646,"title":"High Waist Stretch Plus-Size Leggings","handle":"high-waist-stretch-plus-size-leggings","description":"\u003cp\u003e\u003cspan style=\"color: #ff2a00;\"\u003e\u003cstrong\u003eFEATURES\u003c\/strong\u003e\u003c\/span\u003e\u003c\/p\u003e\n\u003cul\u003e\n\u003cli\u003e\u003cspan style=\"color: #c27347;\"\u003e\u003cstrong data-mce-fragment=\"1\"\u003eLIFT YOUR BOOTY \u0026amp; SHAPE YOUR BODY\u003c\/strong\u003e\u003c\/span\u003e\u003c\/li\u003e\n\u003c\/ul\u003e\n\u003cp style=\"padding-left: 30px;\" data-mce-fragment=\"1\"\u003e\u003cspan data-mce-fragment=\"1\"\u003e\u003cem data-mce-fragment=\"1\"\u003e\u003cstrong data-mce-fragment=\"1\"\u003eShape your body curves\u003c\/strong\u003e\u003c\/em\u003e\u003c\/span\u003e\u003cspan data-mce-fragment=\"1\"\u003e \u003c\/span\u003eas a dream.\u003cspan data-mce-fragment=\"1\"\u003e \u003c\/span\u003e\u003cspan data-mce-fragment=\"1\"\u003e\u003cem data-mce-fragment=\"1\"\u003e\u003cstrong data-mce-fragment=\"1\"\u003eLightweight\u003c\/strong\u003e\u003c\/em\u003e\u003c\/span\u003e \u003cspan data-mce-fragment=\"1\"\u003e\u003cem data-mce-fragment=\"1\"\u003e\u003cstrong data-mce-fragment=\"1\"\u003ecotton\u003c\/strong\u003e\u003c\/em\u003e\u003cem data-mce-fragment=\"1\"\u003e\u003cstrong data-mce-fragment=\"1\"\u003e fabric\u003c\/strong\u003e\u003c\/em\u003e\u003c\/span\u003e,\u003cspan data-mce-fragment=\"1\"\u003e \u003c\/span\u003e\u003cspan data-mce-fragment=\"1\"\u003e\u003cem data-mce-fragment=\"1\"\u003e\u003cstrong data-mce-fragment=\"1\"\u003ecool\u003c\/strong\u003e \u003c\/em\u003e\u0026amp;\u003c\/span\u003e \u003cspan data-mce-fragment=\"1\"\u003e\u003cem data-mce-fragment=\"1\"\u003e\u003cstrong data-mce-fragment=\"1\"\u003equick-dry\u003c\/strong\u003e\u003c\/em\u003e\u003c\/span\u003e, keeps\u003cspan data-mce-fragment=\"1\"\u003e \u003c\/span\u003e\u003cspan data-mce-fragment=\"1\"\u003e\u003cem data-mce-fragment=\"1\"\u003e\u003cstrong data-mce-fragment=\"1\"\u003ecomfy\u003c\/strong\u003e \u003c\/em\u003e\u003c\/span\u003eall-day. Unique\u003cspan data-mce-fragment=\"1\"\u003e \u003c\/span\u003e\u003cspan data-mce-fragment=\"1\"\u003e\u003cem data-mce-fragment=\"1\"\u003e\u003cstrong data-mce-fragment=\"1\"\u003ecompression\u003c\/strong\u003e\u003c\/em\u003e\u003c\/span\u003e\u003cspan data-mce-fragment=\"1\"\u003e \u003c\/span\u003etechnology improves blood circulation \u0026amp; helps to release muscle fatigue.\u003c\/p\u003e\n\u003cp data-mce-fragment=\"1\"\u003e\u003cimg style=\"display: block; margin-left: auto; margin-right: auto;\" src=\"https:\/\/cdn.shopify.com\/s\/files\/1\/0513\/6993\/5022\/files\/gif-1_480x480.gif?v=1608108284\" alt=\"\" data-mce-fragment=\"1\" data-mce-src=\"https:\/\/cdn.shopify.com\/s\/files\/1\/0513\/6993\/5022\/files\/gif-1_480x480.gif?v=1608108284\"\u003e\u003c\/p\u003e\n\u003cul\u003e\n\u003cli\u003e\u003cspan style=\"color: #c27347;\" data-mce-fragment=\"1\"\u003e\u003cstrong data-mce-fragment=\"1\"\u003eWITH POCKETS\u003c\/strong\u003e\u003c\/span\u003e\u003c\/li\u003e\n\u003c\/ul\u003e\n\u003cp style=\"padding-left: 30px;\" data-mce-fragment=\"1\"\u003e\u003cspan data-mce-fragment=\"1\"\u003e\u003cem data-mce-fragment=\"1\"\u003e\u003cstrong data-mce-fragment=\"1\"\u003eTwo side pockets\u003c\/strong\u003e \u003c\/em\u003e\u003c\/span\u003eto hold your\u003cspan data-mce-fragment=\"1\"\u003e \u003c\/span\u003e\u003cspan data-mce-fragment=\"1\"\u003e\u003cem data-mce-fragment=\"1\"\u003e\u003cstrong data-mce-fragment=\"1\"\u003ecards, phone,\u003c\/strong\u003e\u003c\/em\u003e\u003c\/span\u003e \u003cspan data-mce-fragment=\"1\"\u003e\u003cem data-mce-fragment=\"1\"\u003e\u003cstrong data-mce-fragment=\"1\"\u003eID \u0026amp; keys\u003c\/strong\u003e\u003c\/em\u003e\u003c\/span\u003e. Go wallet-free \u0026amp; focus on your exercise.\u003c\/p\u003e\n\u003cp data-mce-fragment=\"1\"\u003e\u003cimg style=\"display: block; margin-left: auto; margin-right: auto;\" src=\"https:\/\/cdn.shopify.com\/s\/files\/1\/0513\/6993\/5022\/files\/pocket_480x480.gif?v=1608108392\" alt=\"\" data-mce-fragment=\"1\" data-mce-src=\"https:\/\/cdn.shopify.com\/s\/files\/1\/0513\/6993\/5022\/files\/pocket_480x480.gif?v=1608108392\"\u003e\u003c\/p\u003e\n\u003cul\u003e\n\u003cli\u003e\u003cspan style=\"color: #c27347;\" data-mce-fragment=\"1\"\u003e\u003cstrong data-mce-fragment=\"1\"\u003eSNUG \u0026amp; COMFORTABLE STRETCH\u003c\/strong\u003e\u003c\/span\u003e\u003c\/li\u003e\n\u003c\/ul\u003e\n\u003cp style=\"padding-left: 30px;\" data-mce-fragment=\"1\"\u003e\u003cspan data-mce-fragment=\"1\"\u003e\u003cem data-mce-fragment=\"1\"\u003e\u003cstrong data-mce-fragment=\"1\"\u003eSoft\u003c\/strong\u003e\u003c\/em\u003e\u003c\/span\u003e \u0026amp; \u003cspan data-mce-fragment=\"1\"\u003e\u003cem data-mce-fragment=\"1\"\u003e\u003cstrong data-mce-fragment=\"1\"\u003e4-way stretch \u003c\/strong\u003e\u003c\/em\u003e\u003c\/span\u003e\u003cspan data-mce-fragment=\"1\"\u003e\u003cem data-mce-fragment=\"1\"\u003e\u003cstrong data-mce-fragment=\"1\"\u003ecotton fabric\u003c\/strong\u003e\u003c\/em\u003e\u003c\/span\u003e. These leggings are great for getting around without the fabric moving out of place. \u003c\/p\u003e\n\u003cp data-mce-fragment=\"1\"\u003e\u003cimg style=\"display: block; margin-left: auto; margin-right: auto;\" src=\"https:\/\/cdn.shopify.com\/s\/files\/1\/0513\/6993\/5022\/files\/stretchy_480x480.gif?v=1608108422\" alt=\"\" data-mce-fragment=\"1\" data-mce-src=\"https:\/\/cdn.shopify.com\/s\/files\/1\/0513\/6993\/5022\/files\/stretchy_480x480.gif?v=1608108422\"\u003e\u003c\/p\u003e\n\u003cul\u003e\n\u003cli\u003e\u003cspan style=\"color: #c27347;\" data-mce-fragment=\"1\"\u003e\u003cstrong data-mce-fragment=\"1\"\u003eBOOTY LIFT\u003c\/strong\u003e\u003c\/span\u003e\u003c\/li\u003e\n\u003c\/ul\u003e\n\u003cp style=\"padding-left: 30px;\" data-mce-fragment=\"1\"\u003eOur \u003cspan data-mce-fragment=\"1\"\u003e\u003cem data-mce-fragment=\"1\"\u003e\u003cstrong data-mce-fragment=\"1\"\u003eheart-shaped\u003c\/strong\u003e\u003c\/em\u003e \u003cem data-mce-fragment=\"1\"\u003e\u003cstrong data-mce-fragment=\"1\"\u003estitching\u003c\/strong\u003e\u003c\/em\u003e\u003c\/span\u003e \u0026amp; \u003cspan data-mce-fragment=\"1\"\u003e\u003cem data-mce-fragment=\"1\"\u003e\u003cstrong data-mce-fragment=\"1\"\u003emade-to-flatter yoke\u003c\/strong\u003e\u003c\/em\u003e\u003c\/span\u003e give your backside a lifted look. Keep your look\u003cspan data-mce-fragment=\"1\"\u003e \u003c\/span\u003e\u003cspan data-mce-fragment=\"1\"\u003e\u003cem data-mce-fragment=\"1\"\u003e\u003cstrong data-mce-fragment=\"1\"\u003esleek\u003c\/strong\u003e\u003c\/em\u003e\u003c\/span\u003e \u0026amp; sophisticated\u003cspan data-mce-fragment=\"1\"\u003e \u003c\/span\u003e\u003cspan data-mce-fragment=\"1\"\u003e\u003cem data-mce-fragment=\"1\"\u003e\u003cstrong data-mce-fragment=\"1\"\u003eflattering\u003c\/strong\u003e\u003c\/em\u003e\u003c\/span\u003e \u0026amp;\u003cspan data-mce-fragment=\"1\"\u003e \u003c\/span\u003e\u003cspan data-mce-fragment=\"1\"\u003e\u003cem data-mce-fragment=\"1\"\u003e\u003cstrong data-mce-fragment=\"1\"\u003ecurve figure\u003c\/strong\u003e\u003c\/em\u003e\u003c\/span\u003e. \u003c\/p\u003e\n\u003cp data-mce-fragment=\"1\"\u003e\u003cimg style=\"display: block; margin-left: auto; margin-right: auto;\" src=\"https:\/\/cdn.selless.io\/files\/ddc58c4cddd16a29ec07f80c8f97cc1f\/g1_10ff0925-1ea0-4e55-a8ba-b01bbd26ed47_large.gif\" height=\"273\" width=\"450\" data-src=\"https:\/\/cdn.selless.io\/files\/ddc58c4cddd16a29ec07f80c8f97cc1f\/g1_10ff0925-1ea0-4e55-a8ba-b01bbd26ed47_large.gif\" alt=\"\" data-mce-fragment=\"1\" data-mce-src=\"https:\/\/cdn.selless.io\/files\/ddc58c4cddd16a29ec07f80c8f97cc1f\/g1_10ff0925-1ea0-4e55-a8ba-b01bbd26ed47_large.gif\" lazy=\"loaded\"\u003e\u003c\/p\u003e\n\u003cul\u003e\n\u003cli\u003e\u003cspan style=\"color: #c27347;\" data-mce-fragment=\"1\"\u003e\u003cstrong data-mce-fragment=\"1\"\u003eSLIMMING BUILT\u003c\/strong\u003e\u003c\/span\u003e\u003c\/li\u003e\n\u003c\/ul\u003e\n\u003cp style=\"padding-left: 30px;\" data-mce-fragment=\"1\"\u003eShow your\u003cspan data-mce-fragment=\"1\"\u003e \u003c\/span\u003e\u003cspan data-mce-fragment=\"1\"\u003e\u003cem data-mce-fragment=\"1\"\u003e\u003cstrong data-mce-fragment=\"1\"\u003eslender\u003c\/strong\u003e\u003c\/em\u003e\u003c\/span\u003e\u003cspan data-mce-fragment=\"1\"\u003e \u003c\/span\u003eleg and curvey build,\u003cspan data-mce-fragment=\"1\"\u003e \u003c\/span\u003e\u003cspan data-mce-fragment=\"1\"\u003e\u003cem data-mce-fragment=\"1\"\u003e\u003cstrong data-mce-fragment=\"1\"\u003eaccentuate the booty\u003c\/strong\u003e\u003c\/em\u003e\u003c\/span\u003e, flattering, perfect for the perfect body figure exercise.\u003c\/p\u003e\n\u003cul\u003e\n\u003cli\u003e\u003cspan style=\"color: #c27347;\" data-mce-fragment=\"1\"\u003e\u003cstrong data-mce-fragment=\"1\"\u003eTUMMY TAMING\u003c\/strong\u003e\u003c\/span\u003e\u003c\/li\u003e\n\u003c\/ul\u003e\n\u003cp style=\"padding-left: 30px;\" data-mce-fragment=\"1\"\u003e\u003cspan data-mce-fragment=\"1\"\u003e\u003cem data-mce-fragment=\"1\"\u003e\u003cstrong data-mce-fragment=\"1\"\u003eSignature curved waistband\u003c\/strong\u003e\u003c\/em\u003e\u003c\/span\u003e\u003cspan data-mce-fragment=\"1\"\u003e \u003c\/span\u003emolds perfectly to your body while it contours. Hit at the natural waist for great coverage and no muffin top.\u003c\/p\u003e\n\u003cp data-mce-fragment=\"1\"\u003e\u003cimg style=\"display: block; margin-left: auto; margin-right: auto;\" src=\"https:\/\/cdn.shopify.com\/s\/files\/1\/0513\/6993\/5022\/files\/slimming_built_480x480.gif?v=1608106358\" alt=\"\" data-mce-fragment=\"1\" data-mce-src=\"https:\/\/cdn.shopify.com\/s\/files\/1\/0513\/6993\/5022\/files\/slimming_built_480x480.gif?v=1608106358\"\u003e\u003c\/p\u003e\n\u003cul\u003e\n\u003cli\u003e\u003cspan style=\"color: #c27347;\" data-mce-fragment=\"1\"\u003e\u003cstrong data-mce-fragment=\"1\"\u003eSMOOTHS \u0026amp; SHAPES\u003c\/strong\u003e\u003c\/span\u003e\u003c\/li\u003e\n\u003c\/ul\u003e\n\u003cp style=\"padding-left: 30px;\" data-mce-fragment=\"1\"\u003e\u003cspan data-mce-fragment=\"1\"\u003e\u003cem data-mce-fragment=\"1\"\u003e\u003cstrong data-mce-fragment=\"1\"\u003eAngled stitching\u003c\/strong\u003e\u003c\/em\u003e\u003c\/span\u003e \u0026amp;\u003cspan data-mce-fragment=\"1\"\u003e \u003c\/span\u003e\u003cspan data-mce-fragment=\"1\"\u003e\u003cem data-mce-fragment=\"1\"\u003e\u003cstrong data-mce-fragment=\"1\"\u003eflat seams\u003c\/strong\u003e\u003c\/em\u003e\u003c\/span\u003e\u003cspan data-mce-fragment=\"1\"\u003e \u003c\/span\u003esmooth your silhouette - for a fit that's as figure-flattering as it's comfortable.\u003c\/p\u003e\n\u003cul\u003e\n\u003cli\u003e\u003cspan style=\"color: #c27347;\" data-mce-fragment=\"1\"\u003e\u003cstrong data-mce-fragment=\"1\"\u003eEASY PULL-ON\u003c\/strong\u003e\u003c\/span\u003e\u003c\/li\u003e\n\u003c\/ul\u003e\n\u003cp style=\"padding-left: 30px;\" data-mce-fragment=\"1\"\u003eEasy pull-on with\u003cspan data-mce-fragment=\"1\"\u003e \u003c\/span\u003e\u003cspan data-mce-fragment=\"1\"\u003e\u003cem data-mce-fragment=\"1\"\u003e\u003cstrong data-mce-fragment=\"1\"\u003eelastic waistband\u003c\/strong\u003e\u003c\/em\u003e\u003c\/span\u003e. Stop sucking in your tummy to squeeze into your pants.\u003c\/p\u003e\n\u003cp data-mce-fragment=\"1\"\u003e\u003cimg style=\"display: block; margin-left: auto; margin-right: auto;\" alt=\"\" src=\"https:\/\/cdn.shopify.com\/s\/files\/1\/0513\/6993\/5022\/files\/pull_45507416-7632-4163-a7f9-80bbd7c05005_480x480.gif?v=1608108778\" data-mce-fragment=\"1\" data-mce-src=\"https:\/\/cdn.shopify.com\/s\/files\/1\/0513\/6993\/5022\/files\/pull_45507416-7632-4163-a7f9-80bbd7c05005_480x480.gif?v=1608108778\"\u003e\u003c\/p\u003e\n\u003cul\u003e\n\u003cli\u003e\u003cspan style=\"color: #c27347;\" data-mce-fragment=\"1\"\u003e\u003cstrong data-mce-fragment=\"1\"\u003eBREATHABLE TOUCH\u003c\/strong\u003e\u003c\/span\u003e\u003c\/li\u003e\n\u003c\/ul\u003e\n\u003cp style=\"padding-left: 30px;\" data-mce-fragment=\"1\"\u003eWith \u003cspan data-mce-fragment=\"1\"\u003e\u003cem data-mce-fragment=\"1\"\u003e\u003cstrong data-mce-fragment=\"1\"\u003eultra-soft fabric\u003c\/strong\u003e\u003c\/em\u003e\u003c\/span\u003e that\u003cspan data-mce-fragment=\"1\"\u003e \u003c\/span\u003e\u003cspan data-mce-fragment=\"1\"\u003e\u003cem data-mce-fragment=\"1\"\u003e\u003cstrong data-mce-fragment=\"1\"\u003ebreathes \u0026amp; moves\u003c\/strong\u003e\u003c\/em\u003e\u003c\/span\u003e\u003cspan data-mce-fragment=\"1\"\u003e \u003c\/span\u003ewith you. \u003cspan data-mce-fragment=\"1\"\u003e\u003cem data-mce-fragment=\"1\"\u003e\u003cstrong data-mce-fragment=\"1\"\u003eQuick-drying\u003c\/strong\u003e\u003c\/em\u003e\u003c\/span\u003e, \u003cspan data-mce-fragment=\"1\"\u003e\u003cem data-mce-fragment=\"1\"\u003e\u003cstrong data-mce-fragment=\"1\"\u003esweat absorption\u003c\/strong\u003e\u003c\/em\u003e\u003c\/span\u003e \u0026amp;\u003cspan data-mce-fragment=\"1\"\u003e \u003c\/span\u003e\u003cspan data-mce-fragment=\"1\"\u003e\u003cem data-mce-fragment=\"1\"\u003e\u003cstrong data-mce-fragment=\"1\"\u003emoisture-wicking\u003c\/strong\u003e\u003c\/em\u003e\u003c\/span\u003e. \u003c\/p\u003e\n\u003cp\u003e\u003cspan style=\"color: #ff2a00;\"\u003e\u003cstrong\u003eSIZE TABLE\u003c\/strong\u003e\u003c\/span\u003e\u003c\/p\u003e\n\u003cp data-mce-fragment=\"1\"\u003e\u003cimg alt=\"\" src=\"https:\/\/cdn.shopifycdn.net\/s\/files\/1\/0356\/3048\/1544\/files\/0510a9576f1ed2a0438a0c610b556a91_682a5c95-4997-4a50-aa5f-ba65bf81801b_480x480.jpg?v=1608693464\" style=\"display: block; margin-left: auto; margin-right: auto;\"\u003e\u003c\/p\u003e\n\u003cp data-mce-fragment=\"1\"\u003e\u003cspan style=\"color: #ff2a00;\"\u003e\u003cstrong data-mce-fragment=\"1\"\u003eSPECIFICATIONS\u003c\/strong\u003e\u003c\/span\u003e\u003c\/p\u003e\n\u003cul data-mce-fragment=\"1\"\u003e\n\u003cli data-mce-fragment=\"1\"\u003e91%-99% polyester\u003cbr\u003e\n\u003c\/li\u003e\n\u003cli data-mce-fragment=\"1\"\u003eDo not bleach\u003c\/li\u003e\n\u003cli data-mce-fragment=\"1\"\u003eFour color options: black, gray, pink, wine red\u003c\/li\u003e\n\u003cli data-mce-fragment=\"1\"\u003e\n\u003cp\u003eTwo side pockets\u003c\/p\u003e\n\u003c\/li\u003e\n\u003c\/ul\u003e","published_at":"2021-06-09T13:42:42-10:00","created_at":"2021-06-09T13:42:47-10:00","vendor":"Yochoos","type":"Leggings","tags":["leggings","women"],"price":1999,"price_min":1999,"price_max":1999,"available":true,"price_varies":false,"compare_at_price":0,"compare_at_price_min":0,"compare_at_price_max":0,"compare_at_price_varies":false,"variants":[{"id":40222054875310,"title":"black \/ S","option1":"black","option2":"S","option3":null,"sku":"PA15373-C001-S00S","requires_shipping":true,"taxable":false,"featured_image":{"id":28948842184878,"product_id":6972458729646,"position":3,"created_at":"2021-06-09T13:42:48-10:00","updated_at":"2021-06-09T13:42:48-10:00","alt":null,"width":800,"height":800,"src":"\/\/www.lifesuny.com\/cdn\/shop\/products\/3_eed9a93e-542d-4d38-83d9-adec47dbb062.jpg?v=1623282168","variant_ids":[40222054875310,40222054908078,40222054940846,40222055006382]},"available":true,"name":"High Waist Stretch Plus-Size Leggings - black \/ S","public_title":"black \/ S","options":["black","S"],"price":1999,"weight":0,"compare_at_price":0,"inventory_management":null,"barcode":null,"featured_media":{"alt":null,"id":21212631171246,"position":3,"preview_image":{"aspect_ratio":1.0,"height":800,"width":800,"src":"\/\/www.lifesuny.com\/cdn\/shop\/products\/3_eed9a93e-542d-4d38-83d9-adec47dbb062.jpg?v=1623282168"}},"requires_selling_plan":false,"selling_plan_allocations":[],"quantity_rule":{"min":1,"max":null,"increment":1}},{"id":40222054908078,"title":"black \/ M","option1":"black","option2":"M","option3":null,"sku":"PA15373-C001-S00M","requires_shipping":true,"taxable":false,"featured_image":{"id":28948842184878,"product_id":6972458729646,"position":3,"created_at":"2021-06-09T13:42:48-10:00","updated_at":"2021-06-09T13:42:48-10:00","alt":null,"width":800,"height":800,"src":"\/\/www.lifesuny.com\/cdn\/shop\/products\/3_eed9a93e-542d-4d38-83d9-adec47dbb062.jpg?v=1623282168","variant_ids":[40222054875310,40222054908078,40222054940846,40222055006382]},"available":true,"name":"High Waist Stretch Plus-Size Leggings - black \/ M","public_title":"black \/ M","options":["black","M"],"price":1999,"weight":0,"compare_at_price":0,"inventory_management":null,"barcode":null,"featured_media":{"alt":null,"id":21212631171246,"position":3,"preview_image":{"aspect_ratio":1.0,"height":800,"width":800,"src":"\/\/www.lifesuny.com\/cdn\/shop\/products\/3_eed9a93e-542d-4d38-83d9-adec47dbb062.jpg?v=1623282168"}},"requires_selling_plan":false,"selling_plan_allocations":[],"quantity_rule":{"min":1,"max":null,"increment":1}},{"id":40222054940846,"title":"black \/ L","option1":"black","option2":"L","option3":null,"sku":"PA15373-C001-S00L","requires_shipping":true,"taxable":false,"featured_image":{"id":28948842184878,"product_id":6972458729646,"position":3,"created_at":"2021-06-09T13:42:48-10:00","updated_at":"2021-06-09T13:42:48-10:00","alt":null,"width":800,"height":800,"src":"\/\/www.lifesuny.com\/cdn\/shop\/products\/3_eed9a93e-542d-4d38-83d9-adec47dbb062.jpg?v=1623282168","variant_ids":[40222054875310,40222054908078,40222054940846,40222055006382]},"available":true,"name":"High Waist Stretch Plus-Size Leggings - black \/ L","public_title":"black \/ L","options":["black","L"],"price":1999,"weight":0,"compare_at_price":0,"inventory_management":null,"barcode":null,"featured_media":{"alt":null,"id":21212631171246,"position":3,"preview_image":{"aspect_ratio":1.0,"height":800,"width":800,"src":"\/\/www.lifesuny.com\/cdn\/shop\/products\/3_eed9a93e-542d-4d38-83d9-adec47dbb062.jpg?v=1623282168"}},"requires_selling_plan":false,"selling_plan_allocations":[],"quantity_rule":{"min":1,"max":null,"increment":1}},{"id":40222055006382,"title":"black \/ XL","option1":"black","option2":"XL","option3":null,"sku":"PA15373-C001-S00X","requires_shipping":true,"taxable":false,"featured_image":{"id":28948842184878,"product_id":6972458729646,"position":3,"created_at":"2021-06-09T13:42:48-10:00","updated_at":"2021-06-09T13:42:48-10:00","alt":null,"width":800,"height":800,"src":"\/\/www.lifesuny.com\/cdn\/shop\/products\/3_eed9a93e-542d-4d38-83d9-adec47dbb062.jpg?v=1623282168","variant_ids":[40222054875310,40222054908078,40222054940846,40222055006382]},"available":true,"name":"High Waist Stretch Plus-Size Leggings - black \/ XL","public_title":"black \/ XL","options":["black","XL"],"price":1999,"weight":0,"compare_at_price":0,"inventory_management":null,"barcode":null,"featured_media":{"alt":null,"id":21212631171246,"position":3,"preview_image":{"aspect_ratio":1.0,"height":800,"width":800,"src":"\/\/www.lifesuny.com\/cdn\/shop\/products\/3_eed9a93e-542d-4d38-83d9-adec47dbb062.jpg?v=1623282168"}},"requires_selling_plan":false,"selling_plan_allocations":[],"quantity_rule":{"min":1,"max":null,"increment":1}},{"id":40222055039150,"title":"gray \/ S","option1":"gray","option2":"S","option3":null,"sku":"PA15373-C006-S00S","requires_shipping":true,"taxable":false,"featured_image":{"id":28948842217646,"product_id":6972458729646,"position":4,"created_at":"2021-06-09T13:42:48-10:00","updated_at":"2021-06-09T13:42:48-10:00","alt":null,"width":800,"height":800,"src":"\/\/www.lifesuny.com\/cdn\/shop\/products\/4_bcaf9187-d643-4a78-9e2a-94f35e3d6145.jpg?v=1623282168","variant_ids":[40222055039150,40222055071918,40222055104686,40222055137454]},"available":true,"name":"High Waist Stretch Plus-Size Leggings - gray \/ S","public_title":"gray \/ S","options":["gray","S"],"price":1999,"weight":0,"compare_at_price":0,"inventory_management":null,"barcode":null,"featured_media":{"alt":null,"id":21212631204014,"position":4,"preview_image":{"aspect_ratio":1.0,"height":800,"width":800,"src":"\/\/www.lifesuny.com\/cdn\/shop\/products\/4_bcaf9187-d643-4a78-9e2a-94f35e3d6145.jpg?v=1623282168"}},"requires_selling_plan":false,"selling_plan_allocations":[],"quantity_rule":{"min":1,"max":null,"increment":1}},{"id":40222055071918,"title":"gray \/ M","option1":"gray","option2":"M","option3":null,"sku":"PA15373-C006-S00M","requires_shipping":true,"taxable":false,"featured_image":{"id":28948842217646,"product_id":6972458729646,"position":4,"created_at":"2021-06-09T13:42:48-10:00","updated_at":"2021-06-09T13:42:48-10:00","alt":null,"width":800,"height":800,"src":"\/\/www.lifesuny.com\/cdn\/shop\/products\/4_bcaf9187-d643-4a78-9e2a-94f35e3d6145.jpg?v=1623282168","variant_ids":[40222055039150,40222055071918,40222055104686,40222055137454]},"available":true,"name":"High Waist Stretch Plus-Size Leggings - gray \/ M","public_title":"gray \/ M","options":["gray","M"],"price":1999,"weight":0,"compare_at_price":0,"inventory_management":null,"barcode":null,"featured_media":{"alt":null,"id":21212631204014,"position":4,"preview_image":{"aspect_ratio":1.0,"height":800,"width":800,"src":"\/\/www.lifesuny.com\/cdn\/shop\/products\/4_bcaf9187-d643-4a78-9e2a-94f35e3d6145.jpg?v=1623282168"}},"requires_selling_plan":false,"selling_plan_allocations":[],"quantity_rule":{"min":1,"max":null,"increment":1}},{"id":40222055104686,"title":"gray \/ L","option1":"gray","option2":"L","option3":null,"sku":"PA15373-C006-S00L","requires_shipping":true,"taxable":false,"featured_image":{"id":28948842217646,"product_id":6972458729646,"position":4,"created_at":"2021-06-09T13:42:48-10:00","updated_at":"2021-06-09T13:42:48-10:00","alt":null,"width":800,"height":800,"src":"\/\/www.lifesuny.com\/cdn\/shop\/products\/4_bcaf9187-d643-4a78-9e2a-94f35e3d6145.jpg?v=1623282168","variant_ids":[40222055039150,40222055071918,40222055104686,40222055137454]},"available":true,"name":"High Waist Stretch Plus-Size Leggings - gray \/ L","public_title":"gray \/ L","options":["gray","L"],"price":1999,"weight":0,"compare_at_price":0,"inventory_management":null,"barcode":null,"featured_media":{"alt":null,"id":21212631204014,"position":4,"preview_image":{"aspect_ratio":1.0,"height":800,"width":800,"src":"\/\/www.lifesuny.com\/cdn\/shop\/products\/4_bcaf9187-d643-4a78-9e2a-94f35e3d6145.jpg?v=1623282168"}},"requires_selling_plan":false,"selling_plan_allocations":[],"quantity_rule":{"min":1,"max":null,"increment":1}},{"id":40222055137454,"title":"gray \/ XL","option1":"gray","option2":"XL","option3":null,"sku":"PA15373-C006-S00X","requires_shipping":true,"taxable":false,"featured_image":{"id":28948842217646,"product_id":6972458729646,"position":4,"created_at":"2021-06-09T13:42:48-10:00","updated_at":"2021-06-09T13:42:48-10:00","alt":null,"width":800,"height":800,"src":"\/\/www.lifesuny.com\/cdn\/shop\/products\/4_bcaf9187-d643-4a78-9e2a-94f35e3d6145.jpg?v=1623282168","variant_ids":[40222055039150,40222055071918,40222055104686,40222055137454]},"available":true,"name":"High Waist Stretch Plus-Size Leggings - gray \/ XL","public_title":"gray \/ XL","options":["gray","XL"],"price":1999,"weight":0,"compare_at_price":0,"inventory_management":null,"barcode":null,"featured_media":{"alt":null,"id":21212631204014,"position":4,"preview_image":{"aspect_ratio":1.0,"height":800,"width":800,"src":"\/\/www.lifesuny.com\/cdn\/shop\/products\/4_bcaf9187-d643-4a78-9e2a-94f35e3d6145.jpg?v=1623282168"}},"requires_selling_plan":false,"selling_plan_allocations":[],"quantity_rule":{"min":1,"max":null,"increment":1}},{"id":40222055170222,"title":"pink \/ S","option1":"pink","option2":"S","option3":null,"sku":"PA15373-C009-S00S","requires_shipping":true,"taxable":false,"featured_image":{"id":28948842152110,"product_id":6972458729646,"position":2,"created_at":"2021-06-09T13:42:48-10:00","updated_at":"2021-06-09T13:42:48-10:00","alt":null,"width":800,"height":800,"src":"\/\/www.lifesuny.com\/cdn\/shop\/products\/2_a65b86d3-336a-4f48-b763-dedca3c96bcb.jpg?v=1623282168","variant_ids":[40222055170222,40222055202990,40222055235758,40222055268526]},"available":true,"name":"High Waist Stretch Plus-Size Leggings - pink \/ S","public_title":"pink \/ S","options":["pink","S"],"price":1999,"weight":0,"compare_at_price":0,"inventory_management":null,"barcode":null,"featured_media":{"alt":null,"id":21212631138478,"position":2,"preview_image":{"aspect_ratio":1.0,"height":800,"width":800,"src":"\/\/www.lifesuny.com\/cdn\/shop\/products\/2_a65b86d3-336a-4f48-b763-dedca3c96bcb.jpg?v=1623282168"}},"requires_selling_plan":false,"selling_plan_allocations":[],"quantity_rule":{"min":1,"max":null,"increment":1}},{"id":40222055202990,"title":"pink \/ M","option1":"pink","option2":"M","option3":null,"sku":"PA15373-C009-S00M","requires_shipping":true,"taxable":false,"featured_image":{"id":28948842152110,"product_id":6972458729646,"position":2,"created_at":"2021-06-09T13:42:48-10:00","updated_at":"2021-06-09T13:42:48-10:00","alt":null,"width":800,"height":800,"src":"\/\/www.lifesuny.com\/cdn\/shop\/products\/2_a65b86d3-336a-4f48-b763-dedca3c96bcb.jpg?v=1623282168","variant_ids":[40222055170222,40222055202990,40222055235758,40222055268526]},"available":true,"name":"High Waist Stretch Plus-Size Leggings - pink \/ M","public_title":"pink \/ M","options":["pink","M"],"price":1999,"weight":0,"compare_at_price":0,"inventory_management":null,"barcode":null,"featured_media":{"alt":null,"id":21212631138478,"position":2,"preview_image":{"aspect_ratio":1.0,"height":800,"width":800,"src":"\/\/www.lifesuny.com\/cdn\/shop\/products\/2_a65b86d3-336a-4f48-b763-dedca3c96bcb.jpg?v=1623282168"}},"requires_selling_plan":false,"selling_plan_allocations":[],"quantity_rule":{"min":1,"max":null,"increment":1}},{"id":40222055235758,"title":"pink \/ L","option1":"pink","option2":"L","option3":null,"sku":"PA15373-C009-S00L","requires_shipping":true,"taxable":false,"featured_image":{"id":28948842152110,"product_id":6972458729646,"position":2,"created_at":"2021-06-09T13:42:48-10:00","updated_at":"2021-06-09T13:42:48-10:00","alt":null,"width":800,"height":800,"src":"\/\/www.lifesuny.com\/cdn\/shop\/products\/2_a65b86d3-336a-4f48-b763-dedca3c96bcb.jpg?v=1623282168","variant_ids":[40222055170222,40222055202990,40222055235758,40222055268526]},"available":true,"name":"High Waist Stretch Plus-Size Leggings - pink \/ L","public_title":"pink \/ L","options":["pink","L"],"price":1999,"weight":0,"compare_at_price":0,"inventory_management":null,"barcode":null,"featured_media":{"alt":null,"id":21212631138478,"position":2,"preview_image":{"aspect_ratio":1.0,"height":800,"width":800,"src":"\/\/www.lifesuny.com\/cdn\/shop\/products\/2_a65b86d3-336a-4f48-b763-dedca3c96bcb.jpg?v=1623282168"}},"requires_selling_plan":false,"selling_plan_allocations":[],"quantity_rule":{"min":1,"max":null,"increment":1}},{"id":40222055268526,"title":"pink \/ XL","option1":"pink","option2":"XL","option3":null,"sku":"PA15373-C009-S00X","requires_shipping":true,"taxable":false,"featured_image":{"id":28948842152110,"product_id":6972458729646,"position":2,"created_at":"2021-06-09T13:42:48-10:00","updated_at":"2021-06-09T13:42:48-10:00","alt":null,"width":800,"height":800,"src":"\/\/www.lifesuny.com\/cdn\/shop\/products\/2_a65b86d3-336a-4f48-b763-dedca3c96bcb.jpg?v=1623282168","variant_ids":[40222055170222,40222055202990,40222055235758,40222055268526]},"available":true,"name":"High Waist Stretch Plus-Size Leggings - pink \/ XL","public_title":"pink \/ XL","options":["pink","XL"],"price":1999,"weight":0,"compare_at_price":0,"inventory_management":null,"barcode":null,"featured_media":{"alt":null,"id":21212631138478,"position":2,"preview_image":{"aspect_ratio":1.0,"height":800,"width":800,"src":"\/\/www.lifesuny.com\/cdn\/shop\/products\/2_a65b86d3-336a-4f48-b763-dedca3c96bcb.jpg?v=1623282168"}},"requires_selling_plan":false,"selling_plan_allocations":[],"quantity_rule":{"min":1,"max":null,"increment":1}},{"id":40222055301294,"title":"wine red \/ S","option1":"wine red","option2":"S","option3":null,"sku":"PA15373-C020-S00S","requires_shipping":true,"taxable":false,"featured_image":{"id":28948842119342,"product_id":6972458729646,"position":1,"created_at":"2021-06-09T13:42:48-10:00","updated_at":"2021-06-09T13:42:48-10:00","alt":null,"width":800,"height":800,"src":"\/\/www.lifesuny.com\/cdn\/shop\/products\/1_d347c07c-52ca-4716-8d10-25ec7a304048.jpg?v=1623282168","variant_ids":[40222055301294,40222055334062,40222055366830,40222055399598]},"available":true,"name":"High Waist Stretch Plus-Size Leggings - wine red \/ S","public_title":"wine red \/ S","options":["wine red","S"],"price":1999,"weight":0,"compare_at_price":0,"inventory_management":null,"barcode":null,"featured_media":{"alt":null,"id":21212631105710,"position":1,"preview_image":{"aspect_ratio":1.0,"height":800,"width":800,"src":"\/\/www.lifesuny.com\/cdn\/shop\/products\/1_d347c07c-52ca-4716-8d10-25ec7a304048.jpg?v=1623282168"}},"requires_selling_plan":false,"selling_plan_allocations":[],"quantity_rule":{"min":1,"max":null,"increment":1}},{"id":40222055334062,"title":"wine red \/ M","option1":"wine red","option2":"M","option3":null,"sku":"PA15373-C020-S00M","requires_shipping":true,"taxable":false,"featured_image":{"id":28948842119342,"product_id":6972458729646,"position":1,"created_at":"2021-06-09T13:42:48-10:00","updated_at":"2021-06-09T13:42:48-10:00","alt":null,"width":800,"height":800,"src":"\/\/www.lifesuny.com\/cdn\/shop\/products\/1_d347c07c-52ca-4716-8d10-25ec7a304048.jpg?v=1623282168","variant_ids":[40222055301294,40222055334062,40222055366830,40222055399598]},"available":true,"name":"High Waist Stretch Plus-Size Leggings - wine red \/ M","public_title":"wine red \/ M","options":["wine red","M"],"price":1999,"weight":0,"compare_at_price":0,"inventory_management":null,"barcode":null,"featured_media":{"alt":null,"id":21212631105710,"position":1,"preview_image":{"aspect_ratio":1.0,"height":800,"width":800,"src":"\/\/www.lifesuny.com\/cdn\/shop\/products\/1_d347c07c-52ca-4716-8d10-25ec7a304048.jpg?v=1623282168"}},"requires_selling_plan":false,"selling_plan_allocations":[],"quantity_rule":{"min":1,"max":null,"increment":1}},{"id":40222055366830,"title":"wine red \/ L","option1":"wine red","option2":"L","option3":null,"sku":"PA15373-C020-S00L","requires_shipping":true,"taxable":false,"featured_image":{"id":28948842119342,"product_id":6972458729646,"position":1,"created_at":"2021-06-09T13:42:48-10:00","updated_at":"2021-06-09T13:42:48-10:00","alt":null,"width":800,"height":800,"src":"\/\/www.lifesuny.com\/cdn\/shop\/products\/1_d347c07c-52ca-4716-8d10-25ec7a304048.jpg?v=1623282168","variant_ids":[40222055301294,40222055334062,40222055366830,40222055399598]},"available":true,"name":"High Waist Stretch Plus-Size Leggings - wine red \/ L","public_title":"wine red \/ L","options":["wine red","L"],"price":1999,"weight":0,"compare_at_price":0,"inventory_management":null,"barcode":null,"featured_media":{"alt":null,"id":21212631105710,"position":1,"preview_image":{"aspect_ratio":1.0,"height":800,"width":800,"src":"\/\/www.lifesuny.com\/cdn\/shop\/products\/1_d347c07c-52ca-4716-8d10-25ec7a304048.jpg?v=1623282168"}},"requires_selling_plan":false,"selling_plan_allocations":[],"quantity_rule":{"min":1,"max":null,"increment":1}},{"id":40222055399598,"title":"wine red \/ XL","option1":"wine red","option2":"XL","option3":null,"sku":"PA15373-C020-S00X","requires_shipping":true,"taxable":false,"featured_image":{"id":28948842119342,"product_id":6972458729646,"position":1,"created_at":"2021-06-09T13:42:48-10:00","updated_at":"2021-06-09T13:42:48-10:00","alt":null,"width":800,"height":800,"src":"\/\/www.lifesuny.com\/cdn\/shop\/products\/1_d347c07c-52ca-4716-8d10-25ec7a304048.jpg?v=1623282168","variant_ids":[40222055301294,40222055334062,40222055366830,40222055399598]},"available":true,"name":"High Waist Stretch Plus-Size Leggings - wine red \/ XL","public_title":"wine red \/ XL","options":["wine red","XL"],"price":1999,"weight":0,"compare_at_price":0,"inventory_management":null,"barcode":null,"featured_media":{"alt":null,"id":21212631105710,"position":1,"preview_image":{"aspect_ratio":1.0,"height":800,"width":800,"src":"\/\/www.lifesuny.com\/cdn\/shop\/products\/1_d347c07c-52ca-4716-8d10-25ec7a304048.jpg?v=1623282168"}},"requires_selling_plan":false,"selling_plan_allocations":[],"quantity_rule":{"min":1,"max":null,"increment":1}}],"images":["\/\/www.lifesuny.com\/cdn\/shop\/products\/1_d347c07c-52ca-4716-8d10-25ec7a304048.jpg?v=1623282168","\/\/www.lifesuny.com\/cdn\/shop\/products\/2_a65b86d3-336a-4f48-b763-dedca3c96bcb.jpg?v=1623282168","\/\/www.lifesuny.com\/cdn\/shop\/products\/3_eed9a93e-542d-4d38-83d9-adec47dbb062.jpg?v=1623282168","\/\/www.lifesuny.com\/cdn\/shop\/products\/4_bcaf9187-d643-4a78-9e2a-94f35e3d6145.jpg?v=1623282168","\/\/www.lifesuny.com\/cdn\/shop\/products\/5_3424d1e1-e750-4139-a574-cf7c1323853a.jpg?v=1623282168","\/\/www.lifesuny.com\/cdn\/shop\/products\/6_769170dd-1990-48e7-9d96-963df8cd56c7.jpg?v=1623282168","\/\/www.lifesuny.com\/cdn\/shop\/products\/7_e3451061-f26b-4f84-bba6-577ec7226faf.jpg?v=1623282168","\/\/www.lifesuny.com\/cdn\/shop\/products\/8_35ecf165-b2ae-4b6f-91b6-f964c1b36cd8.jpg?v=1623282168"],"featured_image":"\/\/www.lifesuny.com\/cdn\/shop\/products\/1_d347c07c-52ca-4716-8d10-25ec7a304048.jpg?v=1623282168","options":["Color","Size"],"media":[{"alt":null,"id":21212631105710,"position":1,"preview_image":{"aspect_ratio":1.0,"height":800,"width":800,"src":"\/\/www.lifesuny.com\/cdn\/shop\/products\/1_d347c07c-52ca-4716-8d10-25ec7a304048.jpg?v=1623282168"},"aspect_ratio":1.0,"height":800,"media_type":"image","src":"\/\/www.lifesuny.com\/cdn\/shop\/products\/1_d347c07c-52ca-4716-8d10-25ec7a304048.jpg?v=1623282168","width":800},{"alt":null,"id":21212631138478,"position":2,"preview_image":{"aspect_ratio":1.0,"height":800,"width":800,"src":"\/\/www.lifesuny.com\/cdn\/shop\/products\/2_a65b86d3-336a-4f48-b763-dedca3c96bcb.jpg?v=1623282168"},"aspect_ratio":1.0,"height":800,"media_type":"image","src":"\/\/www.lifesuny.com\/cdn\/shop\/products\/2_a65b86d3-336a-4f48-b763-dedca3c96bcb.jpg?v=1623282168","width":800},{"alt":null,"id":21212631171246,"position":3,"preview_image":{"aspect_ratio":1.0,"height":800,"width":800,"src":"\/\/www.lifesuny.com\/cdn\/shop\/products\/3_eed9a93e-542d-4d38-83d9-adec47dbb062.jpg?v=1623282168"},"aspect_ratio":1.0,"height":800,"media_type":"image","src":"\/\/www.lifesuny.com\/cdn\/shop\/products\/3_eed9a93e-542d-4d38-83d9-adec47dbb062.jpg?v=1623282168","width":800},{"alt":null,"id":21212631204014,"position":4,"preview_image":{"aspect_ratio":1.0,"height":800,"width":800,"src":"\/\/www.lifesuny.com\/cdn\/shop\/products\/4_bcaf9187-d643-4a78-9e2a-94f35e3d6145.jpg?v=1623282168"},"aspect_ratio":1.0,"height":800,"media_type":"image","src":"\/\/www.lifesuny.com\/cdn\/shop\/products\/4_bcaf9187-d643-4a78-9e2a-94f35e3d6145.jpg?v=1623282168","width":800},{"alt":null,"id":21212631236782,"position":5,"preview_image":{"aspect_ratio":1.0,"height":800,"width":800,"src":"\/\/www.lifesuny.com\/cdn\/shop\/products\/5_3424d1e1-e750-4139-a574-cf7c1323853a.jpg?v=1623282168"},"aspect_ratio":1.0,"height":800,"media_type":"image","src":"\/\/www.lifesuny.com\/cdn\/shop\/products\/5_3424d1e1-e750-4139-a574-cf7c1323853a.jpg?v=1623282168","width":800},{"alt":null,"id":21212631269550,"position":6,"preview_image":{"aspect_ratio":1.0,"height":800,"width":800,"src":"\/\/www.lifesuny.com\/cdn\/shop\/products\/6_769170dd-1990-48e7-9d96-963df8cd56c7.jpg?v=1623282168"},"aspect_ratio":1.0,"height":800,"media_type":"image","src":"\/\/www.lifesuny.com\/cdn\/shop\/products\/6_769170dd-1990-48e7-9d96-963df8cd56c7.jpg?v=1623282168","width":800},{"alt":null,"id":21212631335086,"position":7,"preview_image":{"aspect_ratio":1.0,"height":800,"width":800,"src":"\/\/www.lifesuny.com\/cdn\/shop\/products\/7_e3451061-f26b-4f84-bba6-577ec7226faf.jpg?v=1623282168"},"aspect_ratio":1.0,"height":800,"media_type":"image","src":"\/\/www.lifesuny.com\/cdn\/shop\/products\/7_e3451061-f26b-4f84-bba6-577ec7226faf.jpg?v=1623282168","width":800},{"alt":null,"id":21212631367854,"position":8,"preview_image":{"aspect_ratio":1.0,"height":800,"width":800,"src":"\/\/www.lifesuny.com\/cdn\/shop\/products\/8_35ecf165-b2ae-4b6f-91b6-f964c1b36cd8.jpg?v=1623282168"},"aspect_ratio":1.0,"height":800,"media_type":"image","src":"\/\/www.lifesuny.com\/cdn\/shop\/products\/8_35ecf165-b2ae-4b6f-91b6-f964c1b36cd8.jpg?v=1623282168","width":800}],"requires_selling_plan":false,"selling_plan_groups":[],"content":"\u003cp\u003e\u003cspan style=\"color: #ff2a00;\"\u003e\u003cstrong\u003eFEATURES\u003c\/strong\u003e\u003c\/span\u003e\u003c\/p\u003e\n\u003cul\u003e\n\u003cli\u003e\u003cspan style=\"color: #c27347;\"\u003e\u003cstrong data-mce-fragment=\"1\"\u003eLIFT YOUR BOOTY \u0026amp; SHAPE YOUR BODY\u003c\/strong\u003e\u003c\/span\u003e\u003c\/li\u003e\n\u003c\/ul\u003e\n\u003cp style=\"padding-left: 30px;\" data-mce-fragment=\"1\"\u003e\u003cspan data-mce-fragment=\"1\"\u003e\u003cem data-mce-fragment=\"1\"\u003e\u003cstrong data-mce-fragment=\"1\"\u003eShape your body curves\u003c\/strong\u003e\u003c\/em\u003e\u003c\/span\u003e\u003cspan data-mce-fragment=\"1\"\u003e \u003c\/span\u003eas a dream.\u003cspan data-mce-fragment=\"1\"\u003e \u003c\/span\u003e\u003cspan data-mce-fragment=\"1\"\u003e\u003cem data-mce-fragment=\"1\"\u003e\u003cstrong data-mce-fragment=\"1\"\u003eLightweight\u003c\/strong\u003e\u003c\/em\u003e\u003c\/span\u003e \u003cspan data-mce-fragment=\"1\"\u003e\u003cem data-mce-fragment=\"1\"\u003e\u003cstrong data-mce-fragment=\"1\"\u003ecotton\u003c\/strong\u003e\u003c\/em\u003e\u003cem data-mce-fragment=\"1\"\u003e\u003cstrong data-mce-fragment=\"1\"\u003e fabric\u003c\/strong\u003e\u003c\/em\u003e\u003c\/span\u003e,\u003cspan data-mce-fragment=\"1\"\u003e \u003c\/span\u003e\u003cspan data-mce-fragment=\"1\"\u003e\u003cem data-mce-fragment=\"1\"\u003e\u003cstrong data-mce-fragment=\"1\"\u003ecool\u003c\/strong\u003e \u003c\/em\u003e\u0026amp;\u003c\/span\u003e \u003cspan data-mce-fragment=\"1\"\u003e\u003cem data-mce-fragment=\"1\"\u003e\u003cstrong data-mce-fragment=\"1\"\u003equick-dry\u003c\/strong\u003e\u003c\/em\u003e\u003c\/span\u003e, keeps\u003cspan data-mce-fragment=\"1\"\u003e \u003c\/span\u003e\u003cspan data-mce-fragment=\"1\"\u003e\u003cem data-mce-fragment=\"1\"\u003e\u003cstrong data-mce-fragment=\"1\"\u003ecomfy\u003c\/strong\u003e \u003c\/em\u003e\u003c\/span\u003eall-day. Unique\u003cspan data-mce-fragment=\"1\"\u003e \u003c\/span\u003e\u003cspan data-mce-fragment=\"1\"\u003e\u003cem data-mce-fragment=\"1\"\u003e\u003cstrong data-mce-fragment=\"1\"\u003ecompression\u003c\/strong\u003e\u003c\/em\u003e\u003c\/span\u003e\u003cspan data-mce-fragment=\"1\"\u003e \u003c\/span\u003etechnology improves blood circulation \u0026amp; helps to release muscle fatigue.\u003c\/p\u003e\n\u003cp data-mce-fragment=\"1\"\u003e\u003cimg style=\"display: block; margin-left: auto; margin-right: auto;\" src=\"https:\/\/cdn.shopify.com\/s\/files\/1\/0513\/6993\/5022\/files\/gif-1_480x480.gif?v=1608108284\" alt=\"\" data-mce-fragment=\"1\" data-mce-src=\"https:\/\/cdn.shopify.com\/s\/files\/1\/0513\/6993\/5022\/files\/gif-1_480x480.gif?v=1608108284\"\u003e\u003c\/p\u003e\n\u003cul\u003e\n\u003cli\u003e\u003cspan style=\"color: #c27347;\" data-mce-fragment=\"1\"\u003e\u003cstrong data-mce-fragment=\"1\"\u003eWITH POCKETS\u003c\/strong\u003e\u003c\/span\u003e\u003c\/li\u003e\n\u003c\/ul\u003e\n\u003cp style=\"padding-left: 30px;\" data-mce-fragment=\"1\"\u003e\u003cspan data-mce-fragment=\"1\"\u003e\u003cem data-mce-fragment=\"1\"\u003e\u003cstrong data-mce-fragment=\"1\"\u003eTwo side pockets\u003c\/strong\u003e \u003c\/em\u003e\u003c\/span\u003eto hold your\u003cspan data-mce-fragment=\"1\"\u003e \u003c\/span\u003e\u003cspan data-mce-fragment=\"1\"\u003e\u003cem data-mce-fragment=\"1\"\u003e\u003cstrong data-mce-fragment=\"1\"\u003ecards, phone,\u003c\/strong\u003e\u003c\/em\u003e\u003c\/span\u003e \u003cspan data-mce-fragment=\"1\"\u003e\u003cem data-mce-fragment=\"1\"\u003e\u003cstrong data-mce-fragment=\"1\"\u003eID \u0026amp; keys\u003c\/strong\u003e\u003c\/em\u003e\u003c\/span\u003e. Go wallet-free \u0026amp; focus on your exercise.\u003c\/p\u003e\n\u003cp data-mce-fragment=\"1\"\u003e\u003cimg style=\"display: block; margin-left: auto; margin-right: auto;\" src=\"https:\/\/cdn.shopify.com\/s\/files\/1\/0513\/6993\/5022\/files\/pocket_480x480.gif?v=1608108392\" alt=\"\" data-mce-fragment=\"1\" data-mce-src=\"https:\/\/cdn.shopify.com\/s\/files\/1\/0513\/6993\/5022\/files\/pocket_480x480.gif?v=1608108392\"\u003e\u003c\/p\u003e\n\u003cul\u003e\n\u003cli\u003e\u003cspan style=\"color: #c27347;\" data-mce-fragment=\"1\"\u003e\u003cstrong data-mce-fragment=\"1\"\u003eSNUG \u0026amp; COMFORTABLE STRETCH\u003c\/strong\u003e\u003c\/span\u003e\u003c\/li\u003e\n\u003c\/ul\u003e\n\u003cp style=\"padding-left: 30px;\" data-mce-fragment=\"1\"\u003e\u003cspan data-mce-fragment=\"1\"\u003e\u003cem data-mce-fragment=\"1\"\u003e\u003cstrong data-mce-fragment=\"1\"\u003eSoft\u003c\/strong\u003e\u003c\/em\u003e\u003c\/span\u003e \u0026amp; \u003cspan data-mce-fragment=\"1\"\u003e\u003cem data-mce-fragment=\"1\"\u003e\u003cstrong data-mce-fragment=\"1\"\u003e4-way stretch \u003c\/strong\u003e\u003c\/em\u003e\u003c\/span\u003e\u003cspan data-mce-fragment=\"1\"\u003e\u003cem data-mce-fragment=\"1\"\u003e\u003cstrong data-mce-fragment=\"1\"\u003ecotton fabric\u003c\/strong\u003e\u003c\/em\u003e\u003c\/span\u003e. These leggings are great for getting around without the fabric moving out of place. \u003c\/p\u003e\n\u003cp data-mce-fragment=\"1\"\u003e\u003cimg style=\"display: block; margin-left: auto; margin-right: auto;\" src=\"https:\/\/cdn.shopify.com\/s\/files\/1\/0513\/6993\/5022\/files\/stretchy_480x480.gif?v=1608108422\" alt=\"\" data-mce-fragment=\"1\" data-mce-src=\"https:\/\/cdn.shopify.com\/s\/files\/1\/0513\/6993\/5022\/files\/stretchy_480x480.gif?v=1608108422\"\u003e\u003c\/p\u003e\n\u003cul\u003e\n\u003cli\u003e\u003cspan style=\"color: #c27347;\" data-mce-fragment=\"1\"\u003e\u003cstrong data-mce-fragment=\"1\"\u003eBOOTY LIFT\u003c\/strong\u003e\u003c\/span\u003e\u003c\/li\u003e\n\u003c\/ul\u003e\n\u003cp style=\"padding-left: 30px;\" data-mce-fragment=\"1\"\u003eOur \u003cspan data-mce-fragment=\"1\"\u003e\u003cem data-mce-fragment=\"1\"\u003e\u003cstrong data-mce-fragment=\"1\"\u003eheart-shaped\u003c\/strong\u003e\u003c\/em\u003e \u003cem data-mce-fragment=\"1\"\u003e\u003cstrong data-mce-fragment=\"1\"\u003estitching\u003c\/strong\u003e\u003c\/em\u003e\u003c\/span\u003e \u0026amp; \u003cspan data-mce-fragment=\"1\"\u003e\u003cem data-mce-fragment=\"1\"\u003e\u003cstrong data-mce-fragment=\"1\"\u003emade-to-flatter yoke\u003c\/strong\u003e\u003c\/em\u003e\u003c\/span\u003e give your backside a lifted look. Keep your look\u003cspan data-mce-fragment=\"1\"\u003e \u003c\/span\u003e\u003cspan data-mce-fragment=\"1\"\u003e\u003cem data-mce-fragment=\"1\"\u003e\u003cstrong data-mce-fragment=\"1\"\u003esleek\u003c\/strong\u003e\u003c\/em\u003e\u003c\/span\u003e \u0026amp; sophisticated\u003cspan data-mce-fragment=\"1\"\u003e \u003c\/span\u003e\u003cspan data-mce-fragment=\"1\"\u003e\u003cem data-mce-fragment=\"1\"\u003e\u003cstrong data-mce-fragment=\"1\"\u003eflattering\u003c\/strong\u003e\u003c\/em\u003e\u003c\/span\u003e \u0026amp;\u003cspan data-mce-fragment=\"1\"\u003e \u003c\/span\u003e\u003cspan data-mce-fragment=\"1\"\u003e\u003cem data-mce-fragment=\"1\"\u003e\u003cstrong data-mce-fragment=\"1\"\u003ecurve figure\u003c\/strong\u003e\u003c\/em\u003e\u003c\/span\u003e. \u003c\/p\u003e\n\u003cp data-mce-fragment=\"1\"\u003e\u003cimg style=\"display: block; margin-left: auto; margin-right: auto;\" src=\"https:\/\/cdn.selless.io\/files\/ddc58c4cddd16a29ec07f80c8f97cc1f\/g1_10ff0925-1ea0-4e55-a8ba-b01bbd26ed47_large.gif\" height=\"273\" width=\"450\" data-src=\"https:\/\/cdn.selless.io\/files\/ddc58c4cddd16a29ec07f80c8f97cc1f\/g1_10ff0925-1ea0-4e55-a8ba-b01bbd26ed47_large.gif\" alt=\"\" data-mce-fragment=\"1\" data-mce-src=\"https:\/\/cdn.selless.io\/files\/ddc58c4cddd16a29ec07f80c8f97cc1f\/g1_10ff0925-1ea0-4e55-a8ba-b01bbd26ed47_large.gif\" lazy=\"loaded\"\u003e\u003c\/p\u003e\n\u003cul\u003e\n\u003cli\u003e\u003cspan style=\"color: #c27347;\" data-mce-fragment=\"1\"\u003e\u003cstrong data-mce-fragment=\"1\"\u003eSLIMMING BUILT\u003c\/strong\u003e\u003c\/span\u003e\u003c\/li\u003e\n\u003c\/ul\u003e\n\u003cp style=\"padding-left: 30px;\" data-mce-fragment=\"1\"\u003eShow your\u003cspan data-mce-fragment=\"1\"\u003e \u003c\/span\u003e\u003cspan data-mce-fragment=\"1\"\u003e\u003cem data-mce-fragment=\"1\"\u003e\u003cstrong data-mce-fragment=\"1\"\u003eslender\u003c\/strong\u003e\u003c\/em\u003e\u003c\/span\u003e\u003cspan data-mce-fragment=\"1\"\u003e \u003c\/span\u003eleg and curvey build,\u003cspan data-mce-fragment=\"1\"\u003e \u003c\/span\u003e\u003cspan data-mce-fragment=\"1\"\u003e\u003cem data-mce-fragment=\"1\"\u003e\u003cstrong data-mce-fragment=\"1\"\u003eaccentuate the booty\u003c\/strong\u003e\u003c\/em\u003e\u003c\/span\u003e, flattering, perfect for the perfect body figure exercise.\u003c\/p\u003e\n\u003cul\u003e\n\u003cli\u003e\u003cspan style=\"color: #c27347;\" data-mce-fragment=\"1\"\u003e\u003cstrong data-mce-fragment=\"1\"\u003eTUMMY TAMING\u003c\/strong\u003e\u003c\/span\u003e\u003c\/li\u003e\n\u003c\/ul\u003e\n\u003cp style=\"padding-left: 30px;\" data-mce-fragment=\"1\"\u003e\u003cspan data-mce-fragment=\"1\"\u003e\u003cem data-mce-fragment=\"1\"\u003e\u003cstrong data-mce-fragment=\"1\"\u003eSignature curved waistband\u003c\/strong\u003e\u003c\/em\u003e\u003c\/span\u003e\u003cspan data-mce-fragment=\"1\"\u003e \u003c\/span\u003emolds perfectly to your body while it contours. Hit at the natural waist for great coverage and no muffin top.\u003c\/p\u003e\n\u003cp data-mce-fragment=\"1\"\u003e\u003cimg style=\"display: block; margin-left: auto; margin-right: auto;\" src=\"https:\/\/cdn.shopify.com\/s\/files\/1\/0513\/6993\/5022\/files\/slimming_built_480x480.gif?v=1608106358\" alt=\"\" data-mce-fragment=\"1\" data-mce-src=\"https:\/\/cdn.shopify.com\/s\/files\/1\/0513\/6993\/5022\/files\/slimming_built_480x480.gif?v=1608106358\"\u003e\u003c\/p\u003e\n\u003cul\u003e\n\u003cli\u003e\u003cspan style=\"color: #c27347;\" data-mce-fragment=\"1\"\u003e\u003cstrong data-mce-fragment=\"1\"\u003eSMOOTHS \u0026amp; SHAPES\u003c\/strong\u003e\u003c\/span\u003e\u003c\/li\u003e\n\u003c\/ul\u003e\n\u003cp style=\"padding-left: 30px;\" data-mce-fragment=\"1\"\u003e\u003cspan data-mce-fragment=\"1\"\u003e\u003cem data-mce-fragment=\"1\"\u003e\u003cstrong data-mce-fragment=\"1\"\u003eAngled stitching\u003c\/strong\u003e\u003c\/em\u003e\u003c\/span\u003e \u0026amp;\u003cspan data-mce-fragment=\"1\"\u003e \u003c\/span\u003e\u003cspan data-mce-fragment=\"1\"\u003e\u003cem data-mce-fragment=\"1\"\u003e\u003cstrong data-mce-fragment=\"1\"\u003eflat seams\u003c\/strong\u003e\u003c\/em\u003e\u003c\/span\u003e\u003cspan data-mce-fragment=\"1\"\u003e \u003c\/span\u003esmooth your silhouette - for a fit that's as figure-flattering as it's comfortable.\u003c\/p\u003e\n\u003cul\u003e\n\u003cli\u003e\u003cspan style=\"color: #c27347;\" data-mce-fragment=\"1\"\u003e\u003cstrong data-mce-fragment=\"1\"\u003eEASY PULL-ON\u003c\/strong\u003e\u003c\/span\u003e\u003c\/li\u003e\n\u003c\/ul\u003e\n\u003cp style=\"padding-left: 30px;\" data-mce-fragment=\"1\"\u003eEasy pull-on with\u003cspan data-mce-fragment=\"1\"\u003e \u003c\/span\u003e\u003cspan data-mce-fragment=\"1\"\u003e\u003cem data-mce-fragment=\"1\"\u003e\u003cstrong data-mce-fragment=\"1\"\u003eelastic waistband\u003c\/strong\u003e\u003c\/em\u003e\u003c\/span\u003e. Stop sucking in your tummy to squeeze into your pants.\u003c\/p\u003e\n\u003cp data-mce-fragment=\"1\"\u003e\u003cimg style=\"display: block; margin-left: auto; margin-right: auto;\" alt=\"\" src=\"https:\/\/cdn.shopify.com\/s\/files\/1\/0513\/6993\/5022\/files\/pull_45507416-7632-4163-a7f9-80bbd7c05005_480x480.gif?v=1608108778\" data-mce-fragment=\"1\" data-mce-src=\"https:\/\/cdn.shopify.com\/s\/files\/1\/0513\/6993\/5022\/files\/pull_45507416-7632-4163-a7f9-80bbd7c05005_480x480.gif?v=1608108778\"\u003e\u003c\/p\u003e\n\u003cul\u003e\n\u003cli\u003e\u003cspan style=\"color: #c27347;\" data-mce-fragment=\"1\"\u003e\u003cstrong data-mce-fragment=\"1\"\u003eBREATHABLE TOUCH\u003c\/strong\u003e\u003c\/span\u003e\u003c\/li\u003e\n\u003c\/ul\u003e\n\u003cp style=\"padding-left: 30px;\" data-mce-fragment=\"1\"\u003eWith \u003cspan data-mce-fragment=\"1\"\u003e\u003cem data-mce-fragment=\"1\"\u003e\u003cstrong data-mce-fragment=\"1\"\u003eultra-soft fabric\u003c\/strong\u003e\u003c\/em\u003e\u003c\/span\u003e that\u003cspan data-mce-fragment=\"1\"\u003e \u003c\/span\u003e\u003cspan data-mce-fragment=\"1\"\u003e\u003cem data-mce-fragment=\"1\"\u003e\u003cstrong data-mce-fragment=\"1\"\u003ebreathes \u0026amp; moves\u003c\/strong\u003e\u003c\/em\u003e\u003c\/span\u003e\u003cspan data-mce-fragment=\"1\"\u003e \u003c\/span\u003ewith you. \u003cspan data-mce-fragment=\"1\"\u003e\u003cem data-mce-fragment=\"1\"\u003e\u003cstrong data-mce-fragment=\"1\"\u003eQuick-drying\u003c\/strong\u003e\u003c\/em\u003e\u003c\/span\u003e, \u003cspan data-mce-fragment=\"1\"\u003e\u003cem data-mce-fragment=\"1\"\u003e\u003cstrong data-mce-fragment=\"1\"\u003esweat absorption\u003c\/strong\u003e\u003c\/em\u003e\u003c\/span\u003e \u0026amp;\u003cspan data-mce-fragment=\"1\"\u003e \u003c\/span\u003e\u003cspan data-mce-fragment=\"1\"\u003e\u003cem data-mce-fragment=\"1\"\u003e\u003cstrong data-mce-fragment=\"1\"\u003emoisture-wicking\u003c\/strong\u003e\u003c\/em\u003e\u003c\/span\u003e. \u003c\/p\u003e\n\u003cp\u003e\u003cspan style=\"color: #ff2a00;\"\u003e\u003cstrong\u003eSIZE TABLE\u003c\/strong\u003e\u003c\/span\u003e\u003c\/p\u003e\n\u003cp data-mce-fragment=\"1\"\u003e\u003cimg alt=\"\" src=\"https:\/\/cdn.shopifycdn.net\/s\/files\/1\/0356\/3048\/1544\/files\/0510a9576f1ed2a0438a0c610b556a91_682a5c95-4997-4a50-aa5f-ba65bf81801b_480x480.jpg?v=1608693464\" style=\"display: block; margin-left: auto; margin-right: auto;\"\u003e\u003c\/p\u003e\n\u003cp data-mce-fragment=\"1\"\u003e\u003cspan style=\"color: #ff2a00;\"\u003e\u003cstrong data-mce-fragment=\"1\"\u003eSPECIFICATIONS\u003c\/strong\u003e\u003c\/span\u003e\u003c\/p\u003e\n\u003cul data-mce-fragment=\"1\"\u003e\n\u003cli data-mce-fragment=\"1\"\u003e91%-99% polyester\u003cbr\u003e\n\u003c\/li\u003e\n\u003cli data-mce-fragment=\"1\"\u003eDo not bleach\u003c\/li\u003e\n\u003cli data-mce-fragment=\"1\"\u003eFour color options: black, gray, pink, wine red\u003c\/li\u003e\n\u003cli data-mce-fragment=\"1\"\u003e\n\u003cp\u003eTwo side pockets\u003c\/p\u003e\n\u003c\/li\u003e\n\u003c\/ul\u003e"}
High Waist Stretch Plus-Size Leggings
Adding product to your cart
FEATURES
LIFT YOUR BOOTY & SHAPE YOUR BODY
Shape your body curves as a dream. Lightweight cotton fabric, cool & quick-dry, keeps comfy all-day. Unique compression technology improves blood circulation & helps to release muscle fatigue.
Two side pockets to hold your cards, phone, ID & keys. Go wallet-free & focus on your exercise.
SNUG & COMFORTABLE STRETCH
Soft & 4-way stretch cotton fabric. These leggings are great for getting around without the fabric moving out of place. 
Our heart-shaped stitching & made-to-flatter yoke give your backside a lifted look. Keep your look sleek & sophisticated flattering & curve figure. 
Show your slender leg and curvey build, accentuate the booty, flattering, perfect for the perfect body figure exercise.
Signature curved waistband molds perfectly to your body while it contours. Hit at the natural waist for great coverage and no muffin top.
Angled stitching & flat seams smooth your silhouette - for a fit that's as figure-flattering as it's comfortable.
Easy pull-on with elastic waistband. Stop sucking in your tummy to squeeze into your pants.
With ultra-soft fabric that breathes & moves with you. Quick-drying, sweat absorption & moisture-wicking. 
SIZE TABLE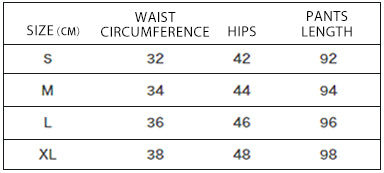 SPECIFICATIONS
91%-99% polyester

Do not bleach
Four color options: black, gray, pink, wine red

Two side pockets