{"id":6969478643886,"title":"Loose Pullover Casual Tops","handle":"loose-pullover-casual-tops","description":"\u003cblockquote\u003e\n\u003cp\u003eRound Neck Pullover. Long Sleeve.\u003c\/p\u003e\n\u003cp\u003eSolid Color, Plus Size, Loose, Baggy, Oversize Tunic Tops.\u003c\/p\u003e\n\u003cp\u003eHide Your Belly, Make You Look Slim.\u003c\/p\u003e\n\u003cp\u003eIdeal To Pair With Jeans, Leggings Or Trousers.\u003c\/p\u003e\n\u003cp\u003eElegant To Show Off your Charming Curves.\u003c\/p\u003e\n\u003cp\u003eComfortable And Good Skin Feeling.\u003c\/p\u003e\n\u003cp\u003eAn Essential For Every Fashion Lady.\u003c\/p\u003e\n\u003c\/blockquote\u003e\n\u003cp\u003e\u003cspan style=\"color: #d26f6f;\"\u003e\u003cstrong\u003eSIZE TABLE\u003c\/strong\u003e\u003c\/span\u003e\u003c\/p\u003e\n\u003cp style=\"text-align: center;\"\u003e\u003cspan style=\"color: #94c76d;\"\u003e\u003cstrong\u003ePlease refer to the size table to avoid unnecessary problems.\u003c\/strong\u003e\u003c\/span\u003e\u003c\/p\u003e\n\u003cp style=\"text-align: center;\"\u003e\u003cimg src=\"https:\/\/cdn.shopify.cn\/s\/files\/1\/0356\/3048\/1544\/files\/c397efc275db80573d0516d5f61c9019_480x480.jpg?v=1587618624\" alt=\"\"\u003e\u003c\/p\u003e\n\u003cp\u003e\u003cspan style=\"color: #c76e6e;\"\u003e\u003cstrong\u003eSPECIFICATIONS\u003c\/strong\u003e\u003c\/span\u003e\u003c\/p\u003e\n\u003cdiv style=\"padding-left: 30px;\"\u003e\n\u003cstrong\u003eStyle:\u003c\/strong\u003e Casual, Sexy\u003c\/div\u003e\n\u003cdiv style=\"padding-left: 30px;\"\u003e\n\u003cstrong\u003eMaterial:\u003c\/strong\u003e cotton, spandex\u003c\/div\u003e\n\u003cdiv style=\"padding-left: 30px;\"\u003e\n\u003cstrong\u003ePattern:\u003c\/strong\u003e solid color\u003c\/div\u003e\n\u003cdiv style=\"padding-left: 30px;\"\u003e\n\u003cstrong\u003eCollar:\u003c\/strong\u003e round neck\u003c\/div\u003e\n\u003cdiv style=\"padding-left: 30px;\"\u003e\n\u003cstrong\u003eSize:\u003c\/strong\u003e S-3XL\u003c\/div\u003e\n\u003cp style=\"padding-left: 30px;\"\u003e\u003cstrong\u003eSeason: \u003c\/strong\u003eSpring, Autumn\u003c\/p\u003e\n\u003cp\u003e\u003cspan style=\"color: #c96a6a;\"\u003e\u003cstrong\u003ePACKAGE INCLUDED\u003c\/strong\u003e\u003c\/span\u003e\u003c\/p\u003e\n\u003cp style=\"padding-left: 30px;\"\u003e\u003cstrong\u003e1 * Loose Pullover\u003c\/strong\u003e\u003c\/p\u003e\n\u003cp\u003e\u003cspan style=\"color: #c96f6f;\"\u003e\u003cstrong\u003eNOTES\u003c\/strong\u003e\u003c\/span\u003e\u003c\/p\u003e\n\u003cdiv style=\"padding-left: 30px;\"\u003ePlease allow slight measurement deviations due to manual measurement.\u003c\/div\u003e\n\u003cdiv style=\"padding-left: 30px;\"\u003eDue to the different monitor and light effect, the actual color of the item might be slightly different from the color showed in the pictures.\u003c\/div\u003e","published_at":"2021-06-09T08:08:14-10:00","created_at":"2021-06-09T08:08:21-10:00","vendor":"Yochoos","type":"T-shirt","tags":["T-shirt","women"],"price":2199,"price_min":2199,"price_max":2199,"available":true,"price_varies":false,"compare_at_price":0,"compare_at_price_min":0,"compare_at_price_max":0,"compare_at_price_varies":false,"variants":[{"id":40217731104942,"title":"light blue \/ s","option1":"light blue","option2":"s","option3":null,"sku":"TS10773-C044-S00S","requires_shipping":true,"taxable":false,"featured_image":{"id":28945716183214,"product_id":6969478643886,"position":10,"created_at":"2021-06-09T08:08:21-10:00","updated_at":"2021-06-09T08:08:21-10:00","alt":null,"width":800,"height":800,"src":"\/\/www.lifesuny.com\/cdn\/shop\/products\/11_646ce56d-6dbe-46ee-89b6-0d376c8f6ba1.jpg?v=1623262101","variant_ids":[40217731104942,40217731137710,40217731170478,40217731203246,40217731236014,40217731268782]},"available":true,"name":"Loose Pullover Casual Tops - light blue \/ s","public_title":"light blue \/ s","options":["light blue","s"],"price":2199,"weight":0,"compare_at_price":0,"inventory_management":null,"barcode":null,"featured_media":{"alt":null,"id":21209354928302,"position":10,"preview_image":{"aspect_ratio":1.0,"height":800,"width":800,"src":"\/\/www.lifesuny.com\/cdn\/shop\/products\/11_646ce56d-6dbe-46ee-89b6-0d376c8f6ba1.jpg?v=1623262101"}},"requires_selling_plan":false,"selling_plan_allocations":[],"quantity_rule":{"min":1,"max":null,"increment":1}},{"id":40217731137710,"title":"light blue \/ m","option1":"light blue","option2":"m","option3":null,"sku":"TS10773-C044-S00M","requires_shipping":true,"taxable":false,"featured_image":{"id":28945716183214,"product_id":6969478643886,"position":10,"created_at":"2021-06-09T08:08:21-10:00","updated_at":"2021-06-09T08:08:21-10:00","alt":null,"width":800,"height":800,"src":"\/\/www.lifesuny.com\/cdn\/shop\/products\/11_646ce56d-6dbe-46ee-89b6-0d376c8f6ba1.jpg?v=1623262101","variant_ids":[40217731104942,40217731137710,40217731170478,40217731203246,40217731236014,40217731268782]},"available":true,"name":"Loose Pullover Casual Tops - light blue \/ m","public_title":"light blue \/ m","options":["light blue","m"],"price":2199,"weight":0,"compare_at_price":0,"inventory_management":null,"barcode":null,"featured_media":{"alt":null,"id":21209354928302,"position":10,"preview_image":{"aspect_ratio":1.0,"height":800,"width":800,"src":"\/\/www.lifesuny.com\/cdn\/shop\/products\/11_646ce56d-6dbe-46ee-89b6-0d376c8f6ba1.jpg?v=1623262101"}},"requires_selling_plan":false,"selling_plan_allocations":[],"quantity_rule":{"min":1,"max":null,"increment":1}},{"id":40217731170478,"title":"light blue \/ l","option1":"light blue","option2":"l","option3":null,"sku":"TS10773-C044-S00L","requires_shipping":true,"taxable":false,"featured_image":{"id":28945716183214,"product_id":6969478643886,"position":10,"created_at":"2021-06-09T08:08:21-10:00","updated_at":"2021-06-09T08:08:21-10:00","alt":null,"width":800,"height":800,"src":"\/\/www.lifesuny.com\/cdn\/shop\/products\/11_646ce56d-6dbe-46ee-89b6-0d376c8f6ba1.jpg?v=1623262101","variant_ids":[40217731104942,40217731137710,40217731170478,40217731203246,40217731236014,40217731268782]},"available":true,"name":"Loose Pullover Casual Tops - light blue \/ l","public_title":"light blue \/ l","options":["light blue","l"],"price":2199,"weight":0,"compare_at_price":0,"inventory_management":null,"barcode":null,"featured_media":{"alt":null,"id":21209354928302,"position":10,"preview_image":{"aspect_ratio":1.0,"height":800,"width":800,"src":"\/\/www.lifesuny.com\/cdn\/shop\/products\/11_646ce56d-6dbe-46ee-89b6-0d376c8f6ba1.jpg?v=1623262101"}},"requires_selling_plan":false,"selling_plan_allocations":[],"quantity_rule":{"min":1,"max":null,"increment":1}},{"id":40217731203246,"title":"light blue \/ xl","option1":"light blue","option2":"xl","option3":null,"sku":"TS10773-C044-S00X","requires_shipping":true,"taxable":false,"featured_image":{"id":28945716183214,"product_id":6969478643886,"position":10,"created_at":"2021-06-09T08:08:21-10:00","updated_at":"2021-06-09T08:08:21-10:00","alt":null,"width":800,"height":800,"src":"\/\/www.lifesuny.com\/cdn\/shop\/products\/11_646ce56d-6dbe-46ee-89b6-0d376c8f6ba1.jpg?v=1623262101","variant_ids":[40217731104942,40217731137710,40217731170478,40217731203246,40217731236014,40217731268782]},"available":true,"name":"Loose Pullover Casual Tops - light blue \/ xl","public_title":"light blue \/ xl","options":["light blue","xl"],"price":2199,"weight":0,"compare_at_price":0,"inventory_management":null,"barcode":null,"featured_media":{"alt":null,"id":21209354928302,"position":10,"preview_image":{"aspect_ratio":1.0,"height":800,"width":800,"src":"\/\/www.lifesuny.com\/cdn\/shop\/products\/11_646ce56d-6dbe-46ee-89b6-0d376c8f6ba1.jpg?v=1623262101"}},"requires_selling_plan":false,"selling_plan_allocations":[],"quantity_rule":{"min":1,"max":null,"increment":1}},{"id":40217731236014,"title":"light blue \/ 2xl","option1":"light blue","option2":"2xl","option3":null,"sku":"TS10773-C044-S02X","requires_shipping":true,"taxable":false,"featured_image":{"id":28945716183214,"product_id":6969478643886,"position":10,"created_at":"2021-06-09T08:08:21-10:00","updated_at":"2021-06-09T08:08:21-10:00","alt":null,"width":800,"height":800,"src":"\/\/www.lifesuny.com\/cdn\/shop\/products\/11_646ce56d-6dbe-46ee-89b6-0d376c8f6ba1.jpg?v=1623262101","variant_ids":[40217731104942,40217731137710,40217731170478,40217731203246,40217731236014,40217731268782]},"available":true,"name":"Loose Pullover Casual Tops - light blue \/ 2xl","public_title":"light blue \/ 2xl","options":["light blue","2xl"],"price":2199,"weight":0,"compare_at_price":0,"inventory_management":null,"barcode":null,"featured_media":{"alt":null,"id":21209354928302,"position":10,"preview_image":{"aspect_ratio":1.0,"height":800,"width":800,"src":"\/\/www.lifesuny.com\/cdn\/shop\/products\/11_646ce56d-6dbe-46ee-89b6-0d376c8f6ba1.jpg?v=1623262101"}},"requires_selling_plan":false,"selling_plan_allocations":[],"quantity_rule":{"min":1,"max":null,"increment":1}},{"id":40217731268782,"title":"light blue \/ 3xl","option1":"light blue","option2":"3xl","option3":null,"sku":"TS10773-C044-S03X","requires_shipping":true,"taxable":false,"featured_image":{"id":28945716183214,"product_id":6969478643886,"position":10,"created_at":"2021-06-09T08:08:21-10:00","updated_at":"2021-06-09T08:08:21-10:00","alt":null,"width":800,"height":800,"src":"\/\/www.lifesuny.com\/cdn\/shop\/products\/11_646ce56d-6dbe-46ee-89b6-0d376c8f6ba1.jpg?v=1623262101","variant_ids":[40217731104942,40217731137710,40217731170478,40217731203246,40217731236014,40217731268782]},"available":true,"name":"Loose Pullover Casual Tops - light blue \/ 3xl","public_title":"light blue \/ 3xl","options":["light blue","3xl"],"price":2199,"weight":0,"compare_at_price":0,"inventory_management":null,"barcode":null,"featured_media":{"alt":null,"id":21209354928302,"position":10,"preview_image":{"aspect_ratio":1.0,"height":800,"width":800,"src":"\/\/www.lifesuny.com\/cdn\/shop\/products\/11_646ce56d-6dbe-46ee-89b6-0d376c8f6ba1.jpg?v=1623262101"}},"requires_selling_plan":false,"selling_plan_allocations":[],"quantity_rule":{"min":1,"max":null,"increment":1}},{"id":40217731301550,"title":"green \/ s","option1":"green","option2":"s","option3":null,"sku":"TS10773-C004-S00S","requires_shipping":true,"taxable":false,"featured_image":{"id":28945716117678,"product_id":6969478643886,"position":8,"created_at":"2021-06-09T08:08:21-10:00","updated_at":"2021-06-09T08:08:21-10:00","alt":null,"width":800,"height":800,"src":"\/\/www.lifesuny.com\/cdn\/shop\/products\/9_3d9bd35a-68b4-4522-83db-5bf5e0d824b0.jpg?v=1623262101","variant_ids":[40217731301550,40217731334318,40217731367086,40217731399854,40217731432622,40217731465390]},"available":true,"name":"Loose Pullover Casual Tops - green \/ s","public_title":"green \/ s","options":["green","s"],"price":2199,"weight":0,"compare_at_price":0,"inventory_management":null,"barcode":null,"featured_media":{"alt":null,"id":21209354862766,"position":8,"preview_image":{"aspect_ratio":1.0,"height":800,"width":800,"src":"\/\/www.lifesuny.com\/cdn\/shop\/products\/9_3d9bd35a-68b4-4522-83db-5bf5e0d824b0.jpg?v=1623262101"}},"requires_selling_plan":false,"selling_plan_allocations":[],"quantity_rule":{"min":1,"max":null,"increment":1}},{"id":40217731334318,"title":"green \/ m","option1":"green","option2":"m","option3":null,"sku":"TS10773-C004-S00M","requires_shipping":true,"taxable":false,"featured_image":{"id":28945716117678,"product_id":6969478643886,"position":8,"created_at":"2021-06-09T08:08:21-10:00","updated_at":"2021-06-09T08:08:21-10:00","alt":null,"width":800,"height":800,"src":"\/\/www.lifesuny.com\/cdn\/shop\/products\/9_3d9bd35a-68b4-4522-83db-5bf5e0d824b0.jpg?v=1623262101","variant_ids":[40217731301550,40217731334318,40217731367086,40217731399854,40217731432622,40217731465390]},"available":true,"name":"Loose Pullover Casual Tops - green \/ m","public_title":"green \/ m","options":["green","m"],"price":2199,"weight":0,"compare_at_price":0,"inventory_management":null,"barcode":null,"featured_media":{"alt":null,"id":21209354862766,"position":8,"preview_image":{"aspect_ratio":1.0,"height":800,"width":800,"src":"\/\/www.lifesuny.com\/cdn\/shop\/products\/9_3d9bd35a-68b4-4522-83db-5bf5e0d824b0.jpg?v=1623262101"}},"requires_selling_plan":false,"selling_plan_allocations":[],"quantity_rule":{"min":1,"max":null,"increment":1}},{"id":40217731367086,"title":"green \/ l","option1":"green","option2":"l","option3":null,"sku":"TS10773-C004-S00L","requires_shipping":true,"taxable":false,"featured_image":{"id":28945716117678,"product_id":6969478643886,"position":8,"created_at":"2021-06-09T08:08:21-10:00","updated_at":"2021-06-09T08:08:21-10:00","alt":null,"width":800,"height":800,"src":"\/\/www.lifesuny.com\/cdn\/shop\/products\/9_3d9bd35a-68b4-4522-83db-5bf5e0d824b0.jpg?v=1623262101","variant_ids":[40217731301550,40217731334318,40217731367086,40217731399854,40217731432622,40217731465390]},"available":true,"name":"Loose Pullover Casual Tops - green \/ l","public_title":"green \/ l","options":["green","l"],"price":2199,"weight":0,"compare_at_price":0,"inventory_management":null,"barcode":null,"featured_media":{"alt":null,"id":21209354862766,"position":8,"preview_image":{"aspect_ratio":1.0,"height":800,"width":800,"src":"\/\/www.lifesuny.com\/cdn\/shop\/products\/9_3d9bd35a-68b4-4522-83db-5bf5e0d824b0.jpg?v=1623262101"}},"requires_selling_plan":false,"selling_plan_allocations":[],"quantity_rule":{"min":1,"max":null,"increment":1}},{"id":40217731399854,"title":"green \/ xl","option1":"green","option2":"xl","option3":null,"sku":"TS10773-C004-S00X","requires_shipping":true,"taxable":false,"featured_image":{"id":28945716117678,"product_id":6969478643886,"position":8,"created_at":"2021-06-09T08:08:21-10:00","updated_at":"2021-06-09T08:08:21-10:00","alt":null,"width":800,"height":800,"src":"\/\/www.lifesuny.com\/cdn\/shop\/products\/9_3d9bd35a-68b4-4522-83db-5bf5e0d824b0.jpg?v=1623262101","variant_ids":[40217731301550,40217731334318,40217731367086,40217731399854,40217731432622,40217731465390]},"available":true,"name":"Loose Pullover Casual Tops - green \/ xl","public_title":"green \/ xl","options":["green","xl"],"price":2199,"weight":0,"compare_at_price":0,"inventory_management":null,"barcode":null,"featured_media":{"alt":null,"id":21209354862766,"position":8,"preview_image":{"aspect_ratio":1.0,"height":800,"width":800,"src":"\/\/www.lifesuny.com\/cdn\/shop\/products\/9_3d9bd35a-68b4-4522-83db-5bf5e0d824b0.jpg?v=1623262101"}},"requires_selling_plan":false,"selling_plan_allocations":[],"quantity_rule":{"min":1,"max":null,"increment":1}},{"id":40217731432622,"title":"green \/ 2xl","option1":"green","option2":"2xl","option3":null,"sku":"TS10773-C004-S02X","requires_shipping":true,"taxable":false,"featured_image":{"id":28945716117678,"product_id":6969478643886,"position":8,"created_at":"2021-06-09T08:08:21-10:00","updated_at":"2021-06-09T08:08:21-10:00","alt":null,"width":800,"height":800,"src":"\/\/www.lifesuny.com\/cdn\/shop\/products\/9_3d9bd35a-68b4-4522-83db-5bf5e0d824b0.jpg?v=1623262101","variant_ids":[40217731301550,40217731334318,40217731367086,40217731399854,40217731432622,40217731465390]},"available":true,"name":"Loose Pullover Casual Tops - green \/ 2xl","public_title":"green \/ 2xl","options":["green","2xl"],"price":2199,"weight":0,"compare_at_price":0,"inventory_management":null,"barcode":null,"featured_media":{"alt":null,"id":21209354862766,"position":8,"preview_image":{"aspect_ratio":1.0,"height":800,"width":800,"src":"\/\/www.lifesuny.com\/cdn\/shop\/products\/9_3d9bd35a-68b4-4522-83db-5bf5e0d824b0.jpg?v=1623262101"}},"requires_selling_plan":false,"selling_plan_allocations":[],"quantity_rule":{"min":1,"max":null,"increment":1}},{"id":40217731465390,"title":"green \/ 3xl","option1":"green","option2":"3xl","option3":null,"sku":"TS10773-C004-S03X","requires_shipping":true,"taxable":false,"featured_image":{"id":28945716117678,"product_id":6969478643886,"position":8,"created_at":"2021-06-09T08:08:21-10:00","updated_at":"2021-06-09T08:08:21-10:00","alt":null,"width":800,"height":800,"src":"\/\/www.lifesuny.com\/cdn\/shop\/products\/9_3d9bd35a-68b4-4522-83db-5bf5e0d824b0.jpg?v=1623262101","variant_ids":[40217731301550,40217731334318,40217731367086,40217731399854,40217731432622,40217731465390]},"available":true,"name":"Loose Pullover Casual Tops - green \/ 3xl","public_title":"green \/ 3xl","options":["green","3xl"],"price":2199,"weight":0,"compare_at_price":0,"inventory_management":null,"barcode":null,"featured_media":{"alt":null,"id":21209354862766,"position":8,"preview_image":{"aspect_ratio":1.0,"height":800,"width":800,"src":"\/\/www.lifesuny.com\/cdn\/shop\/products\/9_3d9bd35a-68b4-4522-83db-5bf5e0d824b0.jpg?v=1623262101"}},"requires_selling_plan":false,"selling_plan_allocations":[],"quantity_rule":{"min":1,"max":null,"increment":1}},{"id":40217731498158,"title":"white \/ s","option1":"white","option2":"s","option3":null,"sku":"TS10773-C005-S00S","requires_shipping":true,"taxable":false,"featured_image":{"id":28945716150446,"product_id":6969478643886,"position":9,"created_at":"2021-06-09T08:08:21-10:00","updated_at":"2021-06-09T08:08:21-10:00","alt":null,"width":800,"height":800,"src":"\/\/www.lifesuny.com\/cdn\/shop\/products\/10_8e5c357e-e348-4b1f-b2f8-d2914c657134.jpg?v=1623262101","variant_ids":[40217731498158,40217731530926,40217731563694,40217731596462,40217731629230,40217731694766]},"available":true,"name":"Loose Pullover Casual Tops - white \/ s","public_title":"white \/ s","options":["white","s"],"price":2199,"weight":0,"compare_at_price":0,"inventory_management":null,"barcode":null,"featured_media":{"alt":null,"id":21209354895534,"position":9,"preview_image":{"aspect_ratio":1.0,"height":800,"width":800,"src":"\/\/www.lifesuny.com\/cdn\/shop\/products\/10_8e5c357e-e348-4b1f-b2f8-d2914c657134.jpg?v=1623262101"}},"requires_selling_plan":false,"selling_plan_allocations":[],"quantity_rule":{"min":1,"max":null,"increment":1}},{"id":40217731530926,"title":"white \/ m","option1":"white","option2":"m","option3":null,"sku":"TS10773-C005-S00M","requires_shipping":true,"taxable":false,"featured_image":{"id":28945716150446,"product_id":6969478643886,"position":9,"created_at":"2021-06-09T08:08:21-10:00","updated_at":"2021-06-09T08:08:21-10:00","alt":null,"width":800,"height":800,"src":"\/\/www.lifesuny.com\/cdn\/shop\/products\/10_8e5c357e-e348-4b1f-b2f8-d2914c657134.jpg?v=1623262101","variant_ids":[40217731498158,40217731530926,40217731563694,40217731596462,40217731629230,40217731694766]},"available":true,"name":"Loose Pullover Casual Tops - white \/ m","public_title":"white \/ m","options":["white","m"],"price":2199,"weight":0,"compare_at_price":0,"inventory_management":null,"barcode":null,"featured_media":{"alt":null,"id":21209354895534,"position":9,"preview_image":{"aspect_ratio":1.0,"height":800,"width":800,"src":"\/\/www.lifesuny.com\/cdn\/shop\/products\/10_8e5c357e-e348-4b1f-b2f8-d2914c657134.jpg?v=1623262101"}},"requires_selling_plan":false,"selling_plan_allocations":[],"quantity_rule":{"min":1,"max":null,"increment":1}},{"id":40217731563694,"title":"white \/ l","option1":"white","option2":"l","option3":null,"sku":"TS10773-C005-S00L","requires_shipping":true,"taxable":false,"featured_image":{"id":28945716150446,"product_id":6969478643886,"position":9,"created_at":"2021-06-09T08:08:21-10:00","updated_at":"2021-06-09T08:08:21-10:00","alt":null,"width":800,"height":800,"src":"\/\/www.lifesuny.com\/cdn\/shop\/products\/10_8e5c357e-e348-4b1f-b2f8-d2914c657134.jpg?v=1623262101","variant_ids":[40217731498158,40217731530926,40217731563694,40217731596462,40217731629230,40217731694766]},"available":true,"name":"Loose Pullover Casual Tops - white \/ l","public_title":"white \/ l","options":["white","l"],"price":2199,"weight":0,"compare_at_price":0,"inventory_management":null,"barcode":null,"featured_media":{"alt":null,"id":21209354895534,"position":9,"preview_image":{"aspect_ratio":1.0,"height":800,"width":800,"src":"\/\/www.lifesuny.com\/cdn\/shop\/products\/10_8e5c357e-e348-4b1f-b2f8-d2914c657134.jpg?v=1623262101"}},"requires_selling_plan":false,"selling_plan_allocations":[],"quantity_rule":{"min":1,"max":null,"increment":1}},{"id":40217731596462,"title":"white \/ xl","option1":"white","option2":"xl","option3":null,"sku":"TS10773-C005-S00X","requires_shipping":true,"taxable":false,"featured_image":{"id":28945716150446,"product_id":6969478643886,"position":9,"created_at":"2021-06-09T08:08:21-10:00","updated_at":"2021-06-09T08:08:21-10:00","alt":null,"width":800,"height":800,"src":"\/\/www.lifesuny.com\/cdn\/shop\/products\/10_8e5c357e-e348-4b1f-b2f8-d2914c657134.jpg?v=1623262101","variant_ids":[40217731498158,40217731530926,40217731563694,40217731596462,40217731629230,40217731694766]},"available":true,"name":"Loose Pullover Casual Tops - white \/ xl","public_title":"white \/ xl","options":["white","xl"],"price":2199,"weight":0,"compare_at_price":0,"inventory_management":null,"barcode":null,"featured_media":{"alt":null,"id":21209354895534,"position":9,"preview_image":{"aspect_ratio":1.0,"height":800,"width":800,"src":"\/\/www.lifesuny.com\/cdn\/shop\/products\/10_8e5c357e-e348-4b1f-b2f8-d2914c657134.jpg?v=1623262101"}},"requires_selling_plan":false,"selling_plan_allocations":[],"quantity_rule":{"min":1,"max":null,"increment":1}},{"id":40217731629230,"title":"white \/ 2xl","option1":"white","option2":"2xl","option3":null,"sku":"TS10773-C005-S02X","requires_shipping":true,"taxable":false,"featured_image":{"id":28945716150446,"product_id":6969478643886,"position":9,"created_at":"2021-06-09T08:08:21-10:00","updated_at":"2021-06-09T08:08:21-10:00","alt":null,"width":800,"height":800,"src":"\/\/www.lifesuny.com\/cdn\/shop\/products\/10_8e5c357e-e348-4b1f-b2f8-d2914c657134.jpg?v=1623262101","variant_ids":[40217731498158,40217731530926,40217731563694,40217731596462,40217731629230,40217731694766]},"available":true,"name":"Loose Pullover Casual Tops - white \/ 2xl","public_title":"white \/ 2xl","options":["white","2xl"],"price":2199,"weight":0,"compare_at_price":0,"inventory_management":null,"barcode":null,"featured_media":{"alt":null,"id":21209354895534,"position":9,"preview_image":{"aspect_ratio":1.0,"height":800,"width":800,"src":"\/\/www.lifesuny.com\/cdn\/shop\/products\/10_8e5c357e-e348-4b1f-b2f8-d2914c657134.jpg?v=1623262101"}},"requires_selling_plan":false,"selling_plan_allocations":[],"quantity_rule":{"min":1,"max":null,"increment":1}},{"id":40217731694766,"title":"white \/ 3xl","option1":"white","option2":"3xl","option3":null,"sku":"TS10773-C005-S03X","requires_shipping":true,"taxable":false,"featured_image":{"id":28945716150446,"product_id":6969478643886,"position":9,"created_at":"2021-06-09T08:08:21-10:00","updated_at":"2021-06-09T08:08:21-10:00","alt":null,"width":800,"height":800,"src":"\/\/www.lifesuny.com\/cdn\/shop\/products\/10_8e5c357e-e348-4b1f-b2f8-d2914c657134.jpg?v=1623262101","variant_ids":[40217731498158,40217731530926,40217731563694,40217731596462,40217731629230,40217731694766]},"available":true,"name":"Loose Pullover Casual Tops - white \/ 3xl","public_title":"white \/ 3xl","options":["white","3xl"],"price":2199,"weight":0,"compare_at_price":0,"inventory_management":null,"barcode":null,"featured_media":{"alt":null,"id":21209354895534,"position":9,"preview_image":{"aspect_ratio":1.0,"height":800,"width":800,"src":"\/\/www.lifesuny.com\/cdn\/shop\/products\/10_8e5c357e-e348-4b1f-b2f8-d2914c657134.jpg?v=1623262101"}},"requires_selling_plan":false,"selling_plan_allocations":[],"quantity_rule":{"min":1,"max":null,"increment":1}},{"id":40217731727534,"title":"brown \/ s","option1":"brown","option2":"s","option3":null,"sku":"TS10773-C007-S00S","requires_shipping":true,"taxable":false,"featured_image":{"id":28945716084910,"product_id":6969478643886,"position":7,"created_at":"2021-06-09T08:08:21-10:00","updated_at":"2021-06-09T08:08:21-10:00","alt":null,"width":800,"height":800,"src":"\/\/www.lifesuny.com\/cdn\/shop\/products\/8_3a46d4ad-fcb2-4cc4-a3c0-49ad8a6080ad.jpg?v=1623262101","variant_ids":[40217731727534,40217731760302,40217731793070,40217731825838,40217731858606,40217731891374]},"available":true,"name":"Loose Pullover Casual Tops - brown \/ s","public_title":"brown \/ s","options":["brown","s"],"price":2199,"weight":0,"compare_at_price":0,"inventory_management":null,"barcode":null,"featured_media":{"alt":null,"id":21209354829998,"position":7,"preview_image":{"aspect_ratio":1.0,"height":800,"width":800,"src":"\/\/www.lifesuny.com\/cdn\/shop\/products\/8_3a46d4ad-fcb2-4cc4-a3c0-49ad8a6080ad.jpg?v=1623262101"}},"requires_selling_plan":false,"selling_plan_allocations":[],"quantity_rule":{"min":1,"max":null,"increment":1}},{"id":40217731760302,"title":"brown \/ m","option1":"brown","option2":"m","option3":null,"sku":"TS10773-C007-S00M","requires_shipping":true,"taxable":false,"featured_image":{"id":28945716084910,"product_id":6969478643886,"position":7,"created_at":"2021-06-09T08:08:21-10:00","updated_at":"2021-06-09T08:08:21-10:00","alt":null,"width":800,"height":800,"src":"\/\/www.lifesuny.com\/cdn\/shop\/products\/8_3a46d4ad-fcb2-4cc4-a3c0-49ad8a6080ad.jpg?v=1623262101","variant_ids":[40217731727534,40217731760302,40217731793070,40217731825838,40217731858606,40217731891374]},"available":true,"name":"Loose Pullover Casual Tops - brown \/ m","public_title":"brown \/ m","options":["brown","m"],"price":2199,"weight":0,"compare_at_price":0,"inventory_management":null,"barcode":null,"featured_media":{"alt":null,"id":21209354829998,"position":7,"preview_image":{"aspect_ratio":1.0,"height":800,"width":800,"src":"\/\/www.lifesuny.com\/cdn\/shop\/products\/8_3a46d4ad-fcb2-4cc4-a3c0-49ad8a6080ad.jpg?v=1623262101"}},"requires_selling_plan":false,"selling_plan_allocations":[],"quantity_rule":{"min":1,"max":null,"increment":1}},{"id":40217731793070,"title":"brown \/ l","option1":"brown","option2":"l","option3":null,"sku":"TS10773-C007-S00L","requires_shipping":true,"taxable":false,"featured_image":{"id":28945716084910,"product_id":6969478643886,"position":7,"created_at":"2021-06-09T08:08:21-10:00","updated_at":"2021-06-09T08:08:21-10:00","alt":null,"width":800,"height":800,"src":"\/\/www.lifesuny.com\/cdn\/shop\/products\/8_3a46d4ad-fcb2-4cc4-a3c0-49ad8a6080ad.jpg?v=1623262101","variant_ids":[40217731727534,40217731760302,40217731793070,40217731825838,40217731858606,40217731891374]},"available":true,"name":"Loose Pullover Casual Tops - brown \/ l","public_title":"brown \/ l","options":["brown","l"],"price":2199,"weight":0,"compare_at_price":0,"inventory_management":null,"barcode":null,"featured_media":{"alt":null,"id":21209354829998,"position":7,"preview_image":{"aspect_ratio":1.0,"height":800,"width":800,"src":"\/\/www.lifesuny.com\/cdn\/shop\/products\/8_3a46d4ad-fcb2-4cc4-a3c0-49ad8a6080ad.jpg?v=1623262101"}},"requires_selling_plan":false,"selling_plan_allocations":[],"quantity_rule":{"min":1,"max":null,"increment":1}},{"id":40217731825838,"title":"brown \/ xl","option1":"brown","option2":"xl","option3":null,"sku":"TS10773-C007-S00X","requires_shipping":true,"taxable":false,"featured_image":{"id":28945716084910,"product_id":6969478643886,"position":7,"created_at":"2021-06-09T08:08:21-10:00","updated_at":"2021-06-09T08:08:21-10:00","alt":null,"width":800,"height":800,"src":"\/\/www.lifesuny.com\/cdn\/shop\/products\/8_3a46d4ad-fcb2-4cc4-a3c0-49ad8a6080ad.jpg?v=1623262101","variant_ids":[40217731727534,40217731760302,40217731793070,40217731825838,40217731858606,40217731891374]},"available":true,"name":"Loose Pullover Casual Tops - brown \/ xl","public_title":"brown \/ xl","options":["brown","xl"],"price":2199,"weight":0,"compare_at_price":0,"inventory_management":null,"barcode":null,"featured_media":{"alt":null,"id":21209354829998,"position":7,"preview_image":{"aspect_ratio":1.0,"height":800,"width":800,"src":"\/\/www.lifesuny.com\/cdn\/shop\/products\/8_3a46d4ad-fcb2-4cc4-a3c0-49ad8a6080ad.jpg?v=1623262101"}},"requires_selling_plan":false,"selling_plan_allocations":[],"quantity_rule":{"min":1,"max":null,"increment":1}},{"id":40217731858606,"title":"brown \/ 2xl","option1":"brown","option2":"2xl","option3":null,"sku":"TS10773-C007-S02X","requires_shipping":true,"taxable":false,"featured_image":{"id":28945716084910,"product_id":6969478643886,"position":7,"created_at":"2021-06-09T08:08:21-10:00","updated_at":"2021-06-09T08:08:21-10:00","alt":null,"width":800,"height":800,"src":"\/\/www.lifesuny.com\/cdn\/shop\/products\/8_3a46d4ad-fcb2-4cc4-a3c0-49ad8a6080ad.jpg?v=1623262101","variant_ids":[40217731727534,40217731760302,40217731793070,40217731825838,40217731858606,40217731891374]},"available":true,"name":"Loose Pullover Casual Tops - brown \/ 2xl","public_title":"brown \/ 2xl","options":["brown","2xl"],"price":2199,"weight":0,"compare_at_price":0,"inventory_management":null,"barcode":null,"featured_media":{"alt":null,"id":21209354829998,"position":7,"preview_image":{"aspect_ratio":1.0,"height":800,"width":800,"src":"\/\/www.lifesuny.com\/cdn\/shop\/products\/8_3a46d4ad-fcb2-4cc4-a3c0-49ad8a6080ad.jpg?v=1623262101"}},"requires_selling_plan":false,"selling_plan_allocations":[],"quantity_rule":{"min":1,"max":null,"increment":1}},{"id":40217731891374,"title":"brown \/ 3xl","option1":"brown","option2":"3xl","option3":null,"sku":"TS10773-C007-S03X","requires_shipping":true,"taxable":false,"featured_image":{"id":28945716084910,"product_id":6969478643886,"position":7,"created_at":"2021-06-09T08:08:21-10:00","updated_at":"2021-06-09T08:08:21-10:00","alt":null,"width":800,"height":800,"src":"\/\/www.lifesuny.com\/cdn\/shop\/products\/8_3a46d4ad-fcb2-4cc4-a3c0-49ad8a6080ad.jpg?v=1623262101","variant_ids":[40217731727534,40217731760302,40217731793070,40217731825838,40217731858606,40217731891374]},"available":true,"name":"Loose Pullover Casual Tops - brown \/ 3xl","public_title":"brown \/ 3xl","options":["brown","3xl"],"price":2199,"weight":0,"compare_at_price":0,"inventory_management":null,"barcode":null,"featured_media":{"alt":null,"id":21209354829998,"position":7,"preview_image":{"aspect_ratio":1.0,"height":800,"width":800,"src":"\/\/www.lifesuny.com\/cdn\/shop\/products\/8_3a46d4ad-fcb2-4cc4-a3c0-49ad8a6080ad.jpg?v=1623262101"}},"requires_selling_plan":false,"selling_plan_allocations":[],"quantity_rule":{"min":1,"max":null,"increment":1}},{"id":40217731924142,"title":"dark blue \/ s","option1":"dark blue","option2":"s","option3":null,"sku":"TS10773-C029-S00S","requires_shipping":true,"taxable":false,"featured_image":{"id":28945716019374,"product_id":6969478643886,"position":5,"created_at":"2021-06-09T08:08:21-10:00","updated_at":"2021-06-09T08:08:21-10:00","alt":null,"width":800,"height":800,"src":"\/\/www.lifesuny.com\/cdn\/shop\/products\/6_b23147f1-de48-4406-ae86-4c43c2a85c6b.jpg?v=1623262101","variant_ids":[40217731924142,40217731989678,40217732022446,40217732055214,40217732087982,40217732120750]},"available":true,"name":"Loose Pullover Casual Tops - dark blue \/ s","public_title":"dark blue \/ s","options":["dark blue","s"],"price":2199,"weight":0,"compare_at_price":0,"inventory_management":null,"barcode":null,"featured_media":{"alt":null,"id":21209354764462,"position":5,"preview_image":{"aspect_ratio":1.0,"height":800,"width":800,"src":"\/\/www.lifesuny.com\/cdn\/shop\/products\/6_b23147f1-de48-4406-ae86-4c43c2a85c6b.jpg?v=1623262101"}},"requires_selling_plan":false,"selling_plan_allocations":[],"quantity_rule":{"min":1,"max":null,"increment":1}},{"id":40217731989678,"title":"dark blue \/ m","option1":"dark blue","option2":"m","option3":null,"sku":"TS10773-C029-S00M","requires_shipping":true,"taxable":false,"featured_image":{"id":28945716019374,"product_id":6969478643886,"position":5,"created_at":"2021-06-09T08:08:21-10:00","updated_at":"2021-06-09T08:08:21-10:00","alt":null,"width":800,"height":800,"src":"\/\/www.lifesuny.com\/cdn\/shop\/products\/6_b23147f1-de48-4406-ae86-4c43c2a85c6b.jpg?v=1623262101","variant_ids":[40217731924142,40217731989678,40217732022446,40217732055214,40217732087982,40217732120750]},"available":true,"name":"Loose Pullover Casual Tops - dark blue \/ m","public_title":"dark blue \/ m","options":["dark blue","m"],"price":2199,"weight":0,"compare_at_price":0,"inventory_management":null,"barcode":null,"featured_media":{"alt":null,"id":21209354764462,"position":5,"preview_image":{"aspect_ratio":1.0,"height":800,"width":800,"src":"\/\/www.lifesuny.com\/cdn\/shop\/products\/6_b23147f1-de48-4406-ae86-4c43c2a85c6b.jpg?v=1623262101"}},"requires_selling_plan":false,"selling_plan_allocations":[],"quantity_rule":{"min":1,"max":null,"increment":1}},{"id":40217732022446,"title":"dark blue \/ l","option1":"dark blue","option2":"l","option3":null,"sku":"TS10773-C029-S00L","requires_shipping":true,"taxable":false,"featured_image":{"id":28945716019374,"product_id":6969478643886,"position":5,"created_at":"2021-06-09T08:08:21-10:00","updated_at":"2021-06-09T08:08:21-10:00","alt":null,"width":800,"height":800,"src":"\/\/www.lifesuny.com\/cdn\/shop\/products\/6_b23147f1-de48-4406-ae86-4c43c2a85c6b.jpg?v=1623262101","variant_ids":[40217731924142,40217731989678,40217732022446,40217732055214,40217732087982,40217732120750]},"available":true,"name":"Loose Pullover Casual Tops - dark blue \/ l","public_title":"dark blue \/ l","options":["dark blue","l"],"price":2199,"weight":0,"compare_at_price":0,"inventory_management":null,"barcode":null,"featured_media":{"alt":null,"id":21209354764462,"position":5,"preview_image":{"aspect_ratio":1.0,"height":800,"width":800,"src":"\/\/www.lifesuny.com\/cdn\/shop\/products\/6_b23147f1-de48-4406-ae86-4c43c2a85c6b.jpg?v=1623262101"}},"requires_selling_plan":false,"selling_plan_allocations":[],"quantity_rule":{"min":1,"max":null,"increment":1}},{"id":40217732055214,"title":"dark blue \/ xl","option1":"dark blue","option2":"xl","option3":null,"sku":"TS10773-C029-S00X","requires_shipping":true,"taxable":false,"featured_image":{"id":28945716019374,"product_id":6969478643886,"position":5,"created_at":"2021-06-09T08:08:21-10:00","updated_at":"2021-06-09T08:08:21-10:00","alt":null,"width":800,"height":800,"src":"\/\/www.lifesuny.com\/cdn\/shop\/products\/6_b23147f1-de48-4406-ae86-4c43c2a85c6b.jpg?v=1623262101","variant_ids":[40217731924142,40217731989678,40217732022446,40217732055214,40217732087982,40217732120750]},"available":true,"name":"Loose Pullover Casual Tops - dark blue \/ xl","public_title":"dark blue \/ xl","options":["dark blue","xl"],"price":2199,"weight":0,"compare_at_price":0,"inventory_management":null,"barcode":null,"featured_media":{"alt":null,"id":21209354764462,"position":5,"preview_image":{"aspect_ratio":1.0,"height":800,"width":800,"src":"\/\/www.lifesuny.com\/cdn\/shop\/products\/6_b23147f1-de48-4406-ae86-4c43c2a85c6b.jpg?v=1623262101"}},"requires_selling_plan":false,"selling_plan_allocations":[],"quantity_rule":{"min":1,"max":null,"increment":1}},{"id":40217732087982,"title":"dark blue \/ 2xl","option1":"dark blue","option2":"2xl","option3":null,"sku":"TS10773-C029-S02X","requires_shipping":true,"taxable":false,"featured_image":{"id":28945716019374,"product_id":6969478643886,"position":5,"created_at":"2021-06-09T08:08:21-10:00","updated_at":"2021-06-09T08:08:21-10:00","alt":null,"width":800,"height":800,"src":"\/\/www.lifesuny.com\/cdn\/shop\/products\/6_b23147f1-de48-4406-ae86-4c43c2a85c6b.jpg?v=1623262101","variant_ids":[40217731924142,40217731989678,40217732022446,40217732055214,40217732087982,40217732120750]},"available":true,"name":"Loose Pullover Casual Tops - dark blue \/ 2xl","public_title":"dark blue \/ 2xl","options":["dark blue","2xl"],"price":2199,"weight":0,"compare_at_price":0,"inventory_management":null,"barcode":null,"featured_media":{"alt":null,"id":21209354764462,"position":5,"preview_image":{"aspect_ratio":1.0,"height":800,"width":800,"src":"\/\/www.lifesuny.com\/cdn\/shop\/products\/6_b23147f1-de48-4406-ae86-4c43c2a85c6b.jpg?v=1623262101"}},"requires_selling_plan":false,"selling_plan_allocations":[],"quantity_rule":{"min":1,"max":null,"increment":1}},{"id":40217732120750,"title":"dark blue \/ 3xl","option1":"dark blue","option2":"3xl","option3":null,"sku":"TS10773-C029-S03X","requires_shipping":true,"taxable":false,"featured_image":{"id":28945716019374,"product_id":6969478643886,"position":5,"created_at":"2021-06-09T08:08:21-10:00","updated_at":"2021-06-09T08:08:21-10:00","alt":null,"width":800,"height":800,"src":"\/\/www.lifesuny.com\/cdn\/shop\/products\/6_b23147f1-de48-4406-ae86-4c43c2a85c6b.jpg?v=1623262101","variant_ids":[40217731924142,40217731989678,40217732022446,40217732055214,40217732087982,40217732120750]},"available":true,"name":"Loose Pullover Casual Tops - dark blue \/ 3xl","public_title":"dark blue \/ 3xl","options":["dark blue","3xl"],"price":2199,"weight":0,"compare_at_price":0,"inventory_management":null,"barcode":null,"featured_media":{"alt":null,"id":21209354764462,"position":5,"preview_image":{"aspect_ratio":1.0,"height":800,"width":800,"src":"\/\/www.lifesuny.com\/cdn\/shop\/products\/6_b23147f1-de48-4406-ae86-4c43c2a85c6b.jpg?v=1623262101"}},"requires_selling_plan":false,"selling_plan_allocations":[],"quantity_rule":{"min":1,"max":null,"increment":1}},{"id":40217732153518,"title":"apricot \/ s","option1":"apricot","option2":"s","option3":null,"sku":"TS10773-C018-S00S","requires_shipping":true,"taxable":false,"featured_image":{"id":28945715953838,"product_id":6969478643886,"position":3,"created_at":"2021-06-09T08:08:21-10:00","updated_at":"2021-06-09T08:08:21-10:00","alt":null,"width":800,"height":800,"src":"\/\/www.lifesuny.com\/cdn\/shop\/products\/4_dcbf2936-098a-40cb-a4f7-e3e61b36d1de.jpg?v=1623262101","variant_ids":[40217732153518,40217732186286,40217732219054,40217732251822,40217732284590,40217732317358]},"available":true,"name":"Loose Pullover Casual Tops - apricot \/ s","public_title":"apricot \/ s","options":["apricot","s"],"price":2199,"weight":0,"compare_at_price":0,"inventory_management":null,"barcode":null,"featured_media":{"alt":null,"id":21209354698926,"position":3,"preview_image":{"aspect_ratio":1.0,"height":800,"width":800,"src":"\/\/www.lifesuny.com\/cdn\/shop\/products\/4_dcbf2936-098a-40cb-a4f7-e3e61b36d1de.jpg?v=1623262101"}},"requires_selling_plan":false,"selling_plan_allocations":[],"quantity_rule":{"min":1,"max":null,"increment":1}},{"id":40217732186286,"title":"apricot \/ m","option1":"apricot","option2":"m","option3":null,"sku":"TS10773-C018-S00M","requires_shipping":true,"taxable":false,"featured_image":{"id":28945715953838,"product_id":6969478643886,"position":3,"created_at":"2021-06-09T08:08:21-10:00","updated_at":"2021-06-09T08:08:21-10:00","alt":null,"width":800,"height":800,"src":"\/\/www.lifesuny.com\/cdn\/shop\/products\/4_dcbf2936-098a-40cb-a4f7-e3e61b36d1de.jpg?v=1623262101","variant_ids":[40217732153518,40217732186286,40217732219054,40217732251822,40217732284590,40217732317358]},"available":true,"name":"Loose Pullover Casual Tops - apricot \/ m","public_title":"apricot \/ m","options":["apricot","m"],"price":2199,"weight":0,"compare_at_price":0,"inventory_management":null,"barcode":null,"featured_media":{"alt":null,"id":21209354698926,"position":3,"preview_image":{"aspect_ratio":1.0,"height":800,"width":800,"src":"\/\/www.lifesuny.com\/cdn\/shop\/products\/4_dcbf2936-098a-40cb-a4f7-e3e61b36d1de.jpg?v=1623262101"}},"requires_selling_plan":false,"selling_plan_allocations":[],"quantity_rule":{"min":1,"max":null,"increment":1}},{"id":40217732219054,"title":"apricot \/ l","option1":"apricot","option2":"l","option3":null,"sku":"TS10773-C018-S00L","requires_shipping":true,"taxable":false,"featured_image":{"id":28945715953838,"product_id":6969478643886,"position":3,"created_at":"2021-06-09T08:08:21-10:00","updated_at":"2021-06-09T08:08:21-10:00","alt":null,"width":800,"height":800,"src":"\/\/www.lifesuny.com\/cdn\/shop\/products\/4_dcbf2936-098a-40cb-a4f7-e3e61b36d1de.jpg?v=1623262101","variant_ids":[40217732153518,40217732186286,40217732219054,40217732251822,40217732284590,40217732317358]},"available":true,"name":"Loose Pullover Casual Tops - apricot \/ l","public_title":"apricot \/ l","options":["apricot","l"],"price":2199,"weight":0,"compare_at_price":0,"inventory_management":null,"barcode":null,"featured_media":{"alt":null,"id":21209354698926,"position":3,"preview_image":{"aspect_ratio":1.0,"height":800,"width":800,"src":"\/\/www.lifesuny.com\/cdn\/shop\/products\/4_dcbf2936-098a-40cb-a4f7-e3e61b36d1de.jpg?v=1623262101"}},"requires_selling_plan":false,"selling_plan_allocations":[],"quantity_rule":{"min":1,"max":null,"increment":1}},{"id":40217732251822,"title":"apricot \/ xl","option1":"apricot","option2":"xl","option3":null,"sku":"TS10773-C018-S00X","requires_shipping":true,"taxable":false,"featured_image":{"id":28945715953838,"product_id":6969478643886,"position":3,"created_at":"2021-06-09T08:08:21-10:00","updated_at":"2021-06-09T08:08:21-10:00","alt":null,"width":800,"height":800,"src":"\/\/www.lifesuny.com\/cdn\/shop\/products\/4_dcbf2936-098a-40cb-a4f7-e3e61b36d1de.jpg?v=1623262101","variant_ids":[40217732153518,40217732186286,40217732219054,40217732251822,40217732284590,40217732317358]},"available":true,"name":"Loose Pullover Casual Tops - apricot \/ xl","public_title":"apricot \/ xl","options":["apricot","xl"],"price":2199,"weight":0,"compare_at_price":0,"inventory_management":null,"barcode":null,"featured_media":{"alt":null,"id":21209354698926,"position":3,"preview_image":{"aspect_ratio":1.0,"height":800,"width":800,"src":"\/\/www.lifesuny.com\/cdn\/shop\/products\/4_dcbf2936-098a-40cb-a4f7-e3e61b36d1de.jpg?v=1623262101"}},"requires_selling_plan":false,"selling_plan_allocations":[],"quantity_rule":{"min":1,"max":null,"increment":1}},{"id":40217732284590,"title":"apricot \/ 2xl","option1":"apricot","option2":"2xl","option3":null,"sku":"TS10773-C018-S02X","requires_shipping":true,"taxable":false,"featured_image":{"id":28945715953838,"product_id":6969478643886,"position":3,"created_at":"2021-06-09T08:08:21-10:00","updated_at":"2021-06-09T08:08:21-10:00","alt":null,"width":800,"height":800,"src":"\/\/www.lifesuny.com\/cdn\/shop\/products\/4_dcbf2936-098a-40cb-a4f7-e3e61b36d1de.jpg?v=1623262101","variant_ids":[40217732153518,40217732186286,40217732219054,40217732251822,40217732284590,40217732317358]},"available":true,"name":"Loose Pullover Casual Tops - apricot \/ 2xl","public_title":"apricot \/ 2xl","options":["apricot","2xl"],"price":2199,"weight":0,"compare_at_price":0,"inventory_management":null,"barcode":null,"featured_media":{"alt":null,"id":21209354698926,"position":3,"preview_image":{"aspect_ratio":1.0,"height":800,"width":800,"src":"\/\/www.lifesuny.com\/cdn\/shop\/products\/4_dcbf2936-098a-40cb-a4f7-e3e61b36d1de.jpg?v=1623262101"}},"requires_selling_plan":false,"selling_plan_allocations":[],"quantity_rule":{"min":1,"max":null,"increment":1}},{"id":40217732317358,"title":"apricot \/ 3xl","option1":"apricot","option2":"3xl","option3":null,"sku":"TS10773-C018-S03X","requires_shipping":true,"taxable":false,"featured_image":{"id":28945715953838,"product_id":6969478643886,"position":3,"created_at":"2021-06-09T08:08:21-10:00","updated_at":"2021-06-09T08:08:21-10:00","alt":null,"width":800,"height":800,"src":"\/\/www.lifesuny.com\/cdn\/shop\/products\/4_dcbf2936-098a-40cb-a4f7-e3e61b36d1de.jpg?v=1623262101","variant_ids":[40217732153518,40217732186286,40217732219054,40217732251822,40217732284590,40217732317358]},"available":true,"name":"Loose Pullover Casual Tops - apricot \/ 3xl","public_title":"apricot \/ 3xl","options":["apricot","3xl"],"price":2199,"weight":0,"compare_at_price":0,"inventory_management":null,"barcode":null,"featured_media":{"alt":null,"id":21209354698926,"position":3,"preview_image":{"aspect_ratio":1.0,"height":800,"width":800,"src":"\/\/www.lifesuny.com\/cdn\/shop\/products\/4_dcbf2936-098a-40cb-a4f7-e3e61b36d1de.jpg?v=1623262101"}},"requires_selling_plan":false,"selling_plan_allocations":[],"quantity_rule":{"min":1,"max":null,"increment":1}},{"id":40217732350126,"title":"pink \/ s","option1":"pink","option2":"s","option3":null,"sku":"TS10773-C009-S00S","requires_shipping":true,"taxable":false,"featured_image":{"id":28945715888302,"product_id":6969478643886,"position":1,"created_at":"2021-06-09T08:08:21-10:00","updated_at":"2021-06-09T08:08:21-10:00","alt":null,"width":800,"height":800,"src":"\/\/www.lifesuny.com\/cdn\/shop\/products\/2_34d1bd99-680f-4a28-837a-18e40c7dd923.jpg?v=1623262101","variant_ids":[40217732350126,40217732382894,40217732415662,40217732481198,40217732513966,40217732546734]},"available":true,"name":"Loose Pullover Casual Tops - pink \/ s","public_title":"pink \/ s","options":["pink","s"],"price":2199,"weight":0,"compare_at_price":0,"inventory_management":null,"barcode":null,"featured_media":{"alt":null,"id":21209354633390,"position":1,"preview_image":{"aspect_ratio":1.0,"height":800,"width":800,"src":"\/\/www.lifesuny.com\/cdn\/shop\/products\/2_34d1bd99-680f-4a28-837a-18e40c7dd923.jpg?v=1623262101"}},"requires_selling_plan":false,"selling_plan_allocations":[],"quantity_rule":{"min":1,"max":null,"increment":1}},{"id":40217732382894,"title":"pink \/ m","option1":"pink","option2":"m","option3":null,"sku":"TS10773-C009-S00M","requires_shipping":true,"taxable":false,"featured_image":{"id":28945715888302,"product_id":6969478643886,"position":1,"created_at":"2021-06-09T08:08:21-10:00","updated_at":"2021-06-09T08:08:21-10:00","alt":null,"width":800,"height":800,"src":"\/\/www.lifesuny.com\/cdn\/shop\/products\/2_34d1bd99-680f-4a28-837a-18e40c7dd923.jpg?v=1623262101","variant_ids":[40217732350126,40217732382894,40217732415662,40217732481198,40217732513966,40217732546734]},"available":true,"name":"Loose Pullover Casual Tops - pink \/ m","public_title":"pink \/ m","options":["pink","m"],"price":2199,"weight":0,"compare_at_price":0,"inventory_management":null,"barcode":null,"featured_media":{"alt":null,"id":21209354633390,"position":1,"preview_image":{"aspect_ratio":1.0,"height":800,"width":800,"src":"\/\/www.lifesuny.com\/cdn\/shop\/products\/2_34d1bd99-680f-4a28-837a-18e40c7dd923.jpg?v=1623262101"}},"requires_selling_plan":false,"selling_plan_allocations":[],"quantity_rule":{"min":1,"max":null,"increment":1}},{"id":40217732415662,"title":"pink \/ l","option1":"pink","option2":"l","option3":null,"sku":"TS10773-C009-S00L","requires_shipping":true,"taxable":false,"featured_image":{"id":28945715888302,"product_id":6969478643886,"position":1,"created_at":"2021-06-09T08:08:21-10:00","updated_at":"2021-06-09T08:08:21-10:00","alt":null,"width":800,"height":800,"src":"\/\/www.lifesuny.com\/cdn\/shop\/products\/2_34d1bd99-680f-4a28-837a-18e40c7dd923.jpg?v=1623262101","variant_ids":[40217732350126,40217732382894,40217732415662,40217732481198,40217732513966,40217732546734]},"available":true,"name":"Loose Pullover Casual Tops - pink \/ l","public_title":"pink \/ l","options":["pink","l"],"price":2199,"weight":0,"compare_at_price":0,"inventory_management":null,"barcode":null,"featured_media":{"alt":null,"id":21209354633390,"position":1,"preview_image":{"aspect_ratio":1.0,"height":800,"width":800,"src":"\/\/www.lifesuny.com\/cdn\/shop\/products\/2_34d1bd99-680f-4a28-837a-18e40c7dd923.jpg?v=1623262101"}},"requires_selling_plan":false,"selling_plan_allocations":[],"quantity_rule":{"min":1,"max":null,"increment":1}},{"id":40217732481198,"title":"pink \/ xl","option1":"pink","option2":"xl","option3":null,"sku":"TS10773-C009-S00X","requires_shipping":true,"taxable":false,"featured_image":{"id":28945715888302,"product_id":6969478643886,"position":1,"created_at":"2021-06-09T08:08:21-10:00","updated_at":"2021-06-09T08:08:21-10:00","alt":null,"width":800,"height":800,"src":"\/\/www.lifesuny.com\/cdn\/shop\/products\/2_34d1bd99-680f-4a28-837a-18e40c7dd923.jpg?v=1623262101","variant_ids":[40217732350126,40217732382894,40217732415662,40217732481198,40217732513966,40217732546734]},"available":true,"name":"Loose Pullover Casual Tops - pink \/ xl","public_title":"pink \/ xl","options":["pink","xl"],"price":2199,"weight":0,"compare_at_price":0,"inventory_management":null,"barcode":null,"featured_media":{"alt":null,"id":21209354633390,"position":1,"preview_image":{"aspect_ratio":1.0,"height":800,"width":800,"src":"\/\/www.lifesuny.com\/cdn\/shop\/products\/2_34d1bd99-680f-4a28-837a-18e40c7dd923.jpg?v=1623262101"}},"requires_selling_plan":false,"selling_plan_allocations":[],"quantity_rule":{"min":1,"max":null,"increment":1}},{"id":40217732513966,"title":"pink \/ 2xl","option1":"pink","option2":"2xl","option3":null,"sku":"TS10773-C009-S02X","requires_shipping":true,"taxable":false,"featured_image":{"id":28945715888302,"product_id":6969478643886,"position":1,"created_at":"2021-06-09T08:08:21-10:00","updated_at":"2021-06-09T08:08:21-10:00","alt":null,"width":800,"height":800,"src":"\/\/www.lifesuny.com\/cdn\/shop\/products\/2_34d1bd99-680f-4a28-837a-18e40c7dd923.jpg?v=1623262101","variant_ids":[40217732350126,40217732382894,40217732415662,40217732481198,40217732513966,40217732546734]},"available":true,"name":"Loose Pullover Casual Tops - pink \/ 2xl","public_title":"pink \/ 2xl","options":["pink","2xl"],"price":2199,"weight":0,"compare_at_price":0,"inventory_management":null,"barcode":null,"featured_media":{"alt":null,"id":21209354633390,"position":1,"preview_image":{"aspect_ratio":1.0,"height":800,"width":800,"src":"\/\/www.lifesuny.com\/cdn\/shop\/products\/2_34d1bd99-680f-4a28-837a-18e40c7dd923.jpg?v=1623262101"}},"requires_selling_plan":false,"selling_plan_allocations":[],"quantity_rule":{"min":1,"max":null,"increment":1}},{"id":40217732546734,"title":"pink \/ 3xl","option1":"pink","option2":"3xl","option3":null,"sku":"TS10773-C009-S03X","requires_shipping":true,"taxable":false,"featured_image":{"id":28945715888302,"product_id":6969478643886,"position":1,"created_at":"2021-06-09T08:08:21-10:00","updated_at":"2021-06-09T08:08:21-10:00","alt":null,"width":800,"height":800,"src":"\/\/www.lifesuny.com\/cdn\/shop\/products\/2_34d1bd99-680f-4a28-837a-18e40c7dd923.jpg?v=1623262101","variant_ids":[40217732350126,40217732382894,40217732415662,40217732481198,40217732513966,40217732546734]},"available":true,"name":"Loose Pullover Casual Tops - pink \/ 3xl","public_title":"pink \/ 3xl","options":["pink","3xl"],"price":2199,"weight":0,"compare_at_price":0,"inventory_management":null,"barcode":null,"featured_media":{"alt":null,"id":21209354633390,"position":1,"preview_image":{"aspect_ratio":1.0,"height":800,"width":800,"src":"\/\/www.lifesuny.com\/cdn\/shop\/products\/2_34d1bd99-680f-4a28-837a-18e40c7dd923.jpg?v=1623262101"}},"requires_selling_plan":false,"selling_plan_allocations":[],"quantity_rule":{"min":1,"max":null,"increment":1}},{"id":40217732579502,"title":"yellow \/ s","option1":"yellow","option2":"s","option3":null,"sku":"TS10773-C003-S00S","requires_shipping":true,"taxable":false,"featured_image":{"id":28945716052142,"product_id":6969478643886,"position":6,"created_at":"2021-06-09T08:08:21-10:00","updated_at":"2021-06-09T08:08:21-10:00","alt":null,"width":800,"height":800,"src":"\/\/www.lifesuny.com\/cdn\/shop\/products\/7_077ae041-5447-4ed1-969d-035772036803.jpg?v=1623262101","variant_ids":[40217732579502,40217732612270,40217732645038,40217732677806,40217732710574,40217732743342]},"available":true,"name":"Loose Pullover Casual Tops - yellow \/ s","public_title":"yellow \/ s","options":["yellow","s"],"price":2199,"weight":0,"compare_at_price":0,"inventory_management":null,"barcode":null,"featured_media":{"alt":null,"id":21209354797230,"position":6,"preview_image":{"aspect_ratio":1.0,"height":800,"width":800,"src":"\/\/www.lifesuny.com\/cdn\/shop\/products\/7_077ae041-5447-4ed1-969d-035772036803.jpg?v=1623262101"}},"requires_selling_plan":false,"selling_plan_allocations":[],"quantity_rule":{"min":1,"max":null,"increment":1}},{"id":40217732612270,"title":"yellow \/ m","option1":"yellow","option2":"m","option3":null,"sku":"TS10773-C003-S00M","requires_shipping":true,"taxable":false,"featured_image":{"id":28945716052142,"product_id":6969478643886,"position":6,"created_at":"2021-06-09T08:08:21-10:00","updated_at":"2021-06-09T08:08:21-10:00","alt":null,"width":800,"height":800,"src":"\/\/www.lifesuny.com\/cdn\/shop\/products\/7_077ae041-5447-4ed1-969d-035772036803.jpg?v=1623262101","variant_ids":[40217732579502,40217732612270,40217732645038,40217732677806,40217732710574,40217732743342]},"available":true,"name":"Loose Pullover Casual Tops - yellow \/ m","public_title":"yellow \/ m","options":["yellow","m"],"price":2199,"weight":0,"compare_at_price":0,"inventory_management":null,"barcode":null,"featured_media":{"alt":null,"id":21209354797230,"position":6,"preview_image":{"aspect_ratio":1.0,"height":800,"width":800,"src":"\/\/www.lifesuny.com\/cdn\/shop\/products\/7_077ae041-5447-4ed1-969d-035772036803.jpg?v=1623262101"}},"requires_selling_plan":false,"selling_plan_allocations":[],"quantity_rule":{"min":1,"max":null,"increment":1}},{"id":40217732645038,"title":"yellow \/ l","option1":"yellow","option2":"l","option3":null,"sku":"TS10773-C003-S00L","requires_shipping":true,"taxable":false,"featured_image":{"id":28945716052142,"product_id":6969478643886,"position":6,"created_at":"2021-06-09T08:08:21-10:00","updated_at":"2021-06-09T08:08:21-10:00","alt":null,"width":800,"height":800,"src":"\/\/www.lifesuny.com\/cdn\/shop\/products\/7_077ae041-5447-4ed1-969d-035772036803.jpg?v=1623262101","variant_ids":[40217732579502,40217732612270,40217732645038,40217732677806,40217732710574,40217732743342]},"available":true,"name":"Loose Pullover Casual Tops - yellow \/ l","public_title":"yellow \/ l","options":["yellow","l"],"price":2199,"weight":0,"compare_at_price":0,"inventory_management":null,"barcode":null,"featured_media":{"alt":null,"id":21209354797230,"position":6,"preview_image":{"aspect_ratio":1.0,"height":800,"width":800,"src":"\/\/www.lifesuny.com\/cdn\/shop\/products\/7_077ae041-5447-4ed1-969d-035772036803.jpg?v=1623262101"}},"requires_selling_plan":false,"selling_plan_allocations":[],"quantity_rule":{"min":1,"max":null,"increment":1}},{"id":40217732677806,"title":"yellow \/ xl","option1":"yellow","option2":"xl","option3":null,"sku":"TS10773-C003-S00X","requires_shipping":true,"taxable":false,"featured_image":{"id":28945716052142,"product_id":6969478643886,"position":6,"created_at":"2021-06-09T08:08:21-10:00","updated_at":"2021-06-09T08:08:21-10:00","alt":null,"width":800,"height":800,"src":"\/\/www.lifesuny.com\/cdn\/shop\/products\/7_077ae041-5447-4ed1-969d-035772036803.jpg?v=1623262101","variant_ids":[40217732579502,40217732612270,40217732645038,40217732677806,40217732710574,40217732743342]},"available":true,"name":"Loose Pullover Casual Tops - yellow \/ xl","public_title":"yellow \/ xl","options":["yellow","xl"],"price":2199,"weight":0,"compare_at_price":0,"inventory_management":null,"barcode":null,"featured_media":{"alt":null,"id":21209354797230,"position":6,"preview_image":{"aspect_ratio":1.0,"height":800,"width":800,"src":"\/\/www.lifesuny.com\/cdn\/shop\/products\/7_077ae041-5447-4ed1-969d-035772036803.jpg?v=1623262101"}},"requires_selling_plan":false,"selling_plan_allocations":[],"quantity_rule":{"min":1,"max":null,"increment":1}},{"id":40217732710574,"title":"yellow \/ 2xl","option1":"yellow","option2":"2xl","option3":null,"sku":"TS10773-C003-S02X","requires_shipping":true,"taxable":false,"featured_image":{"id":28945716052142,"product_id":6969478643886,"position":6,"created_at":"2021-06-09T08:08:21-10:00","updated_at":"2021-06-09T08:08:21-10:00","alt":null,"width":800,"height":800,"src":"\/\/www.lifesuny.com\/cdn\/shop\/products\/7_077ae041-5447-4ed1-969d-035772036803.jpg?v=1623262101","variant_ids":[40217732579502,40217732612270,40217732645038,40217732677806,40217732710574,40217732743342]},"available":true,"name":"Loose Pullover Casual Tops - yellow \/ 2xl","public_title":"yellow \/ 2xl","options":["yellow","2xl"],"price":2199,"weight":0,"compare_at_price":0,"inventory_management":null,"barcode":null,"featured_media":{"alt":null,"id":21209354797230,"position":6,"preview_image":{"aspect_ratio":1.0,"height":800,"width":800,"src":"\/\/www.lifesuny.com\/cdn\/shop\/products\/7_077ae041-5447-4ed1-969d-035772036803.jpg?v=1623262101"}},"requires_selling_plan":false,"selling_plan_allocations":[],"quantity_rule":{"min":1,"max":null,"increment":1}},{"id":40217732743342,"title":"yellow \/ 3xl","option1":"yellow","option2":"3xl","option3":null,"sku":"TS10773-C003-S03X","requires_shipping":true,"taxable":false,"featured_image":{"id":28945716052142,"product_id":6969478643886,"position":6,"created_at":"2021-06-09T08:08:21-10:00","updated_at":"2021-06-09T08:08:21-10:00","alt":null,"width":800,"height":800,"src":"\/\/www.lifesuny.com\/cdn\/shop\/products\/7_077ae041-5447-4ed1-969d-035772036803.jpg?v=1623262101","variant_ids":[40217732579502,40217732612270,40217732645038,40217732677806,40217732710574,40217732743342]},"available":true,"name":"Loose Pullover Casual Tops - yellow \/ 3xl","public_title":"yellow \/ 3xl","options":["yellow","3xl"],"price":2199,"weight":0,"compare_at_price":0,"inventory_management":null,"barcode":null,"featured_media":{"alt":null,"id":21209354797230,"position":6,"preview_image":{"aspect_ratio":1.0,"height":800,"width":800,"src":"\/\/www.lifesuny.com\/cdn\/shop\/products\/7_077ae041-5447-4ed1-969d-035772036803.jpg?v=1623262101"}},"requires_selling_plan":false,"selling_plan_allocations":[],"quantity_rule":{"min":1,"max":null,"increment":1}},{"id":40217732776110,"title":"gray \/ s","option1":"gray","option2":"s","option3":null,"sku":"TS10773-C006-S00S","requires_shipping":true,"taxable":false,"featured_image":{"id":28945715986606,"product_id":6969478643886,"position":4,"created_at":"2021-06-09T08:08:21-10:00","updated_at":"2021-06-09T08:08:21-10:00","alt":null,"width":800,"height":800,"src":"\/\/www.lifesuny.com\/cdn\/shop\/products\/5_a8320baf-ee5e-462d-84c5-e6838767d246.jpg?v=1623262101","variant_ids":[40217732776110,40217732808878,40217732841646,40217732874414,40217732907182,40217732939950]},"available":true,"name":"Loose Pullover Casual Tops - gray \/ s","public_title":"gray \/ s","options":["gray","s"],"price":2199,"weight":0,"compare_at_price":0,"inventory_management":null,"barcode":null,"featured_media":{"alt":null,"id":21209354731694,"position":4,"preview_image":{"aspect_ratio":1.0,"height":800,"width":800,"src":"\/\/www.lifesuny.com\/cdn\/shop\/products\/5_a8320baf-ee5e-462d-84c5-e6838767d246.jpg?v=1623262101"}},"requires_selling_plan":false,"selling_plan_allocations":[],"quantity_rule":{"min":1,"max":null,"increment":1}},{"id":40217732808878,"title":"gray \/ m","option1":"gray","option2":"m","option3":null,"sku":"TS10773-C006-S00M","requires_shipping":true,"taxable":false,"featured_image":{"id":28945715986606,"product_id":6969478643886,"position":4,"created_at":"2021-06-09T08:08:21-10:00","updated_at":"2021-06-09T08:08:21-10:00","alt":null,"width":800,"height":800,"src":"\/\/www.lifesuny.com\/cdn\/shop\/products\/5_a8320baf-ee5e-462d-84c5-e6838767d246.jpg?v=1623262101","variant_ids":[40217732776110,40217732808878,40217732841646,40217732874414,40217732907182,40217732939950]},"available":true,"name":"Loose Pullover Casual Tops - gray \/ m","public_title":"gray \/ m","options":["gray","m"],"price":2199,"weight":0,"compare_at_price":0,"inventory_management":null,"barcode":null,"featured_media":{"alt":null,"id":21209354731694,"position":4,"preview_image":{"aspect_ratio":1.0,"height":800,"width":800,"src":"\/\/www.lifesuny.com\/cdn\/shop\/products\/5_a8320baf-ee5e-462d-84c5-e6838767d246.jpg?v=1623262101"}},"requires_selling_plan":false,"selling_plan_allocations":[],"quantity_rule":{"min":1,"max":null,"increment":1}},{"id":40217732841646,"title":"gray \/ l","option1":"gray","option2":"l","option3":null,"sku":"TS10773-C006-S00L","requires_shipping":true,"taxable":false,"featured_image":{"id":28945715986606,"product_id":6969478643886,"position":4,"created_at":"2021-06-09T08:08:21-10:00","updated_at":"2021-06-09T08:08:21-10:00","alt":null,"width":800,"height":800,"src":"\/\/www.lifesuny.com\/cdn\/shop\/products\/5_a8320baf-ee5e-462d-84c5-e6838767d246.jpg?v=1623262101","variant_ids":[40217732776110,40217732808878,40217732841646,40217732874414,40217732907182,40217732939950]},"available":true,"name":"Loose Pullover Casual Tops - gray \/ l","public_title":"gray \/ l","options":["gray","l"],"price":2199,"weight":0,"compare_at_price":0,"inventory_management":null,"barcode":null,"featured_media":{"alt":null,"id":21209354731694,"position":4,"preview_image":{"aspect_ratio":1.0,"height":800,"width":800,"src":"\/\/www.lifesuny.com\/cdn\/shop\/products\/5_a8320baf-ee5e-462d-84c5-e6838767d246.jpg?v=1623262101"}},"requires_selling_plan":false,"selling_plan_allocations":[],"quantity_rule":{"min":1,"max":null,"increment":1}},{"id":40217732874414,"title":"gray \/ xl","option1":"gray","option2":"xl","option3":null,"sku":"TS10773-C006-S00X","requires_shipping":true,"taxable":false,"featured_image":{"id":28945715986606,"product_id":6969478643886,"position":4,"created_at":"2021-06-09T08:08:21-10:00","updated_at":"2021-06-09T08:08:21-10:00","alt":null,"width":800,"height":800,"src":"\/\/www.lifesuny.com\/cdn\/shop\/products\/5_a8320baf-ee5e-462d-84c5-e6838767d246.jpg?v=1623262101","variant_ids":[40217732776110,40217732808878,40217732841646,40217732874414,40217732907182,40217732939950]},"available":true,"name":"Loose Pullover Casual Tops - gray \/ xl","public_title":"gray \/ xl","options":["gray","xl"],"price":2199,"weight":0,"compare_at_price":0,"inventory_management":null,"barcode":null,"featured_media":{"alt":null,"id":21209354731694,"position":4,"preview_image":{"aspect_ratio":1.0,"height":800,"width":800,"src":"\/\/www.lifesuny.com\/cdn\/shop\/products\/5_a8320baf-ee5e-462d-84c5-e6838767d246.jpg?v=1623262101"}},"requires_selling_plan":false,"selling_plan_allocations":[],"quantity_rule":{"min":1,"max":null,"increment":1}},{"id":40217732907182,"title":"gray \/ 2xl","option1":"gray","option2":"2xl","option3":null,"sku":"TS10773-C006-S02X","requires_shipping":true,"taxable":false,"featured_image":{"id":28945715986606,"product_id":6969478643886,"position":4,"created_at":"2021-06-09T08:08:21-10:00","updated_at":"2021-06-09T08:08:21-10:00","alt":null,"width":800,"height":800,"src":"\/\/www.lifesuny.com\/cdn\/shop\/products\/5_a8320baf-ee5e-462d-84c5-e6838767d246.jpg?v=1623262101","variant_ids":[40217732776110,40217732808878,40217732841646,40217732874414,40217732907182,40217732939950]},"available":true,"name":"Loose Pullover Casual Tops - gray \/ 2xl","public_title":"gray \/ 2xl","options":["gray","2xl"],"price":2199,"weight":0,"compare_at_price":0,"inventory_management":null,"barcode":null,"featured_media":{"alt":null,"id":21209354731694,"position":4,"preview_image":{"aspect_ratio":1.0,"height":800,"width":800,"src":"\/\/www.lifesuny.com\/cdn\/shop\/products\/5_a8320baf-ee5e-462d-84c5-e6838767d246.jpg?v=1623262101"}},"requires_selling_plan":false,"selling_plan_allocations":[],"quantity_rule":{"min":1,"max":null,"increment":1}},{"id":40217732939950,"title":"gray \/ 3xl","option1":"gray","option2":"3xl","option3":null,"sku":"TS10773-C006-S03X","requires_shipping":true,"taxable":false,"featured_image":{"id":28945715986606,"product_id":6969478643886,"position":4,"created_at":"2021-06-09T08:08:21-10:00","updated_at":"2021-06-09T08:08:21-10:00","alt":null,"width":800,"height":800,"src":"\/\/www.lifesuny.com\/cdn\/shop\/products\/5_a8320baf-ee5e-462d-84c5-e6838767d246.jpg?v=1623262101","variant_ids":[40217732776110,40217732808878,40217732841646,40217732874414,40217732907182,40217732939950]},"available":true,"name":"Loose Pullover Casual Tops - gray \/ 3xl","public_title":"gray \/ 3xl","options":["gray","3xl"],"price":2199,"weight":0,"compare_at_price":0,"inventory_management":null,"barcode":null,"featured_media":{"alt":null,"id":21209354731694,"position":4,"preview_image":{"aspect_ratio":1.0,"height":800,"width":800,"src":"\/\/www.lifesuny.com\/cdn\/shop\/products\/5_a8320baf-ee5e-462d-84c5-e6838767d246.jpg?v=1623262101"}},"requires_selling_plan":false,"selling_plan_allocations":[],"quantity_rule":{"min":1,"max":null,"increment":1}},{"id":40217732972718,"title":"black \/ s","option1":"black","option2":"s","option3":null,"sku":"TS10773-C001-S00S","requires_shipping":true,"taxable":false,"featured_image":{"id":28945715921070,"product_id":6969478643886,"position":2,"created_at":"2021-06-09T08:08:21-10:00","updated_at":"2021-06-09T08:08:21-10:00","alt":null,"width":800,"height":800,"src":"\/\/www.lifesuny.com\/cdn\/shop\/products\/3_bed2ce53-bc6c-4669-84ea-d4ccfee6a416.jpg?v=1623262101","variant_ids":[40217732972718,40217733005486,40217733038254,40217733071022,40217733136558,40217733169326]},"available":true,"name":"Loose Pullover Casual Tops - black \/ s","public_title":"black \/ s","options":["black","s"],"price":2199,"weight":0,"compare_at_price":0,"inventory_management":null,"barcode":null,"featured_media":{"alt":null,"id":21209354666158,"position":2,"preview_image":{"aspect_ratio":1.0,"height":800,"width":800,"src":"\/\/www.lifesuny.com\/cdn\/shop\/products\/3_bed2ce53-bc6c-4669-84ea-d4ccfee6a416.jpg?v=1623262101"}},"requires_selling_plan":false,"selling_plan_allocations":[],"quantity_rule":{"min":1,"max":null,"increment":1}},{"id":40217733005486,"title":"black \/ m","option1":"black","option2":"m","option3":null,"sku":"TS10773-C001-S00M","requires_shipping":true,"taxable":false,"featured_image":{"id":28945715921070,"product_id":6969478643886,"position":2,"created_at":"2021-06-09T08:08:21-10:00","updated_at":"2021-06-09T08:08:21-10:00","alt":null,"width":800,"height":800,"src":"\/\/www.lifesuny.com\/cdn\/shop\/products\/3_bed2ce53-bc6c-4669-84ea-d4ccfee6a416.jpg?v=1623262101","variant_ids":[40217732972718,40217733005486,40217733038254,40217733071022,40217733136558,40217733169326]},"available":true,"name":"Loose Pullover Casual Tops - black \/ m","public_title":"black \/ m","options":["black","m"],"price":2199,"weight":0,"compare_at_price":0,"inventory_management":null,"barcode":null,"featured_media":{"alt":null,"id":21209354666158,"position":2,"preview_image":{"aspect_ratio":1.0,"height":800,"width":800,"src":"\/\/www.lifesuny.com\/cdn\/shop\/products\/3_bed2ce53-bc6c-4669-84ea-d4ccfee6a416.jpg?v=1623262101"}},"requires_selling_plan":false,"selling_plan_allocations":[],"quantity_rule":{"min":1,"max":null,"increment":1}},{"id":40217733038254,"title":"black \/ l","option1":"black","option2":"l","option3":null,"sku":"TS10773-C001-S00L","requires_shipping":true,"taxable":false,"featured_image":{"id":28945715921070,"product_id":6969478643886,"position":2,"created_at":"2021-06-09T08:08:21-10:00","updated_at":"2021-06-09T08:08:21-10:00","alt":null,"width":800,"height":800,"src":"\/\/www.lifesuny.com\/cdn\/shop\/products\/3_bed2ce53-bc6c-4669-84ea-d4ccfee6a416.jpg?v=1623262101","variant_ids":[40217732972718,40217733005486,40217733038254,40217733071022,40217733136558,40217733169326]},"available":true,"name":"Loose Pullover Casual Tops - black \/ l","public_title":"black \/ l","options":["black","l"],"price":2199,"weight":0,"compare_at_price":0,"inventory_management":null,"barcode":null,"featured_media":{"alt":null,"id":21209354666158,"position":2,"preview_image":{"aspect_ratio":1.0,"height":800,"width":800,"src":"\/\/www.lifesuny.com\/cdn\/shop\/products\/3_bed2ce53-bc6c-4669-84ea-d4ccfee6a416.jpg?v=1623262101"}},"requires_selling_plan":false,"selling_plan_allocations":[],"quantity_rule":{"min":1,"max":null,"increment":1}},{"id":40217733071022,"title":"black \/ xl","option1":"black","option2":"xl","option3":null,"sku":"TS10773-C001-S00X","requires_shipping":true,"taxable":false,"featured_image":{"id":28945715921070,"product_id":6969478643886,"position":2,"created_at":"2021-06-09T08:08:21-10:00","updated_at":"2021-06-09T08:08:21-10:00","alt":null,"width":800,"height":800,"src":"\/\/www.lifesuny.com\/cdn\/shop\/products\/3_bed2ce53-bc6c-4669-84ea-d4ccfee6a416.jpg?v=1623262101","variant_ids":[40217732972718,40217733005486,40217733038254,40217733071022,40217733136558,40217733169326]},"available":true,"name":"Loose Pullover Casual Tops - black \/ xl","public_title":"black \/ xl","options":["black","xl"],"price":2199,"weight":0,"compare_at_price":0,"inventory_management":null,"barcode":null,"featured_media":{"alt":null,"id":21209354666158,"position":2,"preview_image":{"aspect_ratio":1.0,"height":800,"width":800,"src":"\/\/www.lifesuny.com\/cdn\/shop\/products\/3_bed2ce53-bc6c-4669-84ea-d4ccfee6a416.jpg?v=1623262101"}},"requires_selling_plan":false,"selling_plan_allocations":[],"quantity_rule":{"min":1,"max":null,"increment":1}},{"id":40217733136558,"title":"black \/ 2xl","option1":"black","option2":"2xl","option3":null,"sku":"TS10773-C001-S02X","requires_shipping":true,"taxable":false,"featured_image":{"id":28945715921070,"product_id":6969478643886,"position":2,"created_at":"2021-06-09T08:08:21-10:00","updated_at":"2021-06-09T08:08:21-10:00","alt":null,"width":800,"height":800,"src":"\/\/www.lifesuny.com\/cdn\/shop\/products\/3_bed2ce53-bc6c-4669-84ea-d4ccfee6a416.jpg?v=1623262101","variant_ids":[40217732972718,40217733005486,40217733038254,40217733071022,40217733136558,40217733169326]},"available":true,"name":"Loose Pullover Casual Tops - black \/ 2xl","public_title":"black \/ 2xl","options":["black","2xl"],"price":2199,"weight":0,"compare_at_price":0,"inventory_management":null,"barcode":null,"featured_media":{"alt":null,"id":21209354666158,"position":2,"preview_image":{"aspect_ratio":1.0,"height":800,"width":800,"src":"\/\/www.lifesuny.com\/cdn\/shop\/products\/3_bed2ce53-bc6c-4669-84ea-d4ccfee6a416.jpg?v=1623262101"}},"requires_selling_plan":false,"selling_plan_allocations":[],"quantity_rule":{"min":1,"max":null,"increment":1}},{"id":40217733169326,"title":"black \/ 3xl","option1":"black","option2":"3xl","option3":null,"sku":"TS10773-C001-S03X","requires_shipping":true,"taxable":false,"featured_image":{"id":28945715921070,"product_id":6969478643886,"position":2,"created_at":"2021-06-09T08:08:21-10:00","updated_at":"2021-06-09T08:08:21-10:00","alt":null,"width":800,"height":800,"src":"\/\/www.lifesuny.com\/cdn\/shop\/products\/3_bed2ce53-bc6c-4669-84ea-d4ccfee6a416.jpg?v=1623262101","variant_ids":[40217732972718,40217733005486,40217733038254,40217733071022,40217733136558,40217733169326]},"available":true,"name":"Loose Pullover Casual Tops - black \/ 3xl","public_title":"black \/ 3xl","options":["black","3xl"],"price":2199,"weight":0,"compare_at_price":0,"inventory_management":null,"barcode":null,"featured_media":{"alt":null,"id":21209354666158,"position":2,"preview_image":{"aspect_ratio":1.0,"height":800,"width":800,"src":"\/\/www.lifesuny.com\/cdn\/shop\/products\/3_bed2ce53-bc6c-4669-84ea-d4ccfee6a416.jpg?v=1623262101"}},"requires_selling_plan":false,"selling_plan_allocations":[],"quantity_rule":{"min":1,"max":null,"increment":1}}],"images":["\/\/www.lifesuny.com\/cdn\/shop\/products\/2_34d1bd99-680f-4a28-837a-18e40c7dd923.jpg?v=1623262101","\/\/www.lifesuny.com\/cdn\/shop\/products\/3_bed2ce53-bc6c-4669-84ea-d4ccfee6a416.jpg?v=1623262101","\/\/www.lifesuny.com\/cdn\/shop\/products\/4_dcbf2936-098a-40cb-a4f7-e3e61b36d1de.jpg?v=1623262101","\/\/www.lifesuny.com\/cdn\/shop\/products\/5_a8320baf-ee5e-462d-84c5-e6838767d246.jpg?v=1623262101","\/\/www.lifesuny.com\/cdn\/shop\/products\/6_b23147f1-de48-4406-ae86-4c43c2a85c6b.jpg?v=1623262101","\/\/www.lifesuny.com\/cdn\/shop\/products\/7_077ae041-5447-4ed1-969d-035772036803.jpg?v=1623262101","\/\/www.lifesuny.com\/cdn\/shop\/products\/8_3a46d4ad-fcb2-4cc4-a3c0-49ad8a6080ad.jpg?v=1623262101","\/\/www.lifesuny.com\/cdn\/shop\/products\/9_3d9bd35a-68b4-4522-83db-5bf5e0d824b0.jpg?v=1623262101","\/\/www.lifesuny.com\/cdn\/shop\/products\/10_8e5c357e-e348-4b1f-b2f8-d2914c657134.jpg?v=1623262101","\/\/www.lifesuny.com\/cdn\/shop\/products\/11_646ce56d-6dbe-46ee-89b6-0d376c8f6ba1.jpg?v=1623262101"],"featured_image":"\/\/www.lifesuny.com\/cdn\/shop\/products\/2_34d1bd99-680f-4a28-837a-18e40c7dd923.jpg?v=1623262101","options":["Color","Size"],"media":[{"alt":null,"id":21209354633390,"position":1,"preview_image":{"aspect_ratio":1.0,"height":800,"width":800,"src":"\/\/www.lifesuny.com\/cdn\/shop\/products\/2_34d1bd99-680f-4a28-837a-18e40c7dd923.jpg?v=1623262101"},"aspect_ratio":1.0,"height":800,"media_type":"image","src":"\/\/www.lifesuny.com\/cdn\/shop\/products\/2_34d1bd99-680f-4a28-837a-18e40c7dd923.jpg?v=1623262101","width":800},{"alt":null,"id":21209354666158,"position":2,"preview_image":{"aspect_ratio":1.0,"height":800,"width":800,"src":"\/\/www.lifesuny.com\/cdn\/shop\/products\/3_bed2ce53-bc6c-4669-84ea-d4ccfee6a416.jpg?v=1623262101"},"aspect_ratio":1.0,"height":800,"media_type":"image","src":"\/\/www.lifesuny.com\/cdn\/shop\/products\/3_bed2ce53-bc6c-4669-84ea-d4ccfee6a416.jpg?v=1623262101","width":800},{"alt":null,"id":21209354698926,"position":3,"preview_image":{"aspect_ratio":1.0,"height":800,"width":800,"src":"\/\/www.lifesuny.com\/cdn\/shop\/products\/4_dcbf2936-098a-40cb-a4f7-e3e61b36d1de.jpg?v=1623262101"},"aspect_ratio":1.0,"height":800,"media_type":"image","src":"\/\/www.lifesuny.com\/cdn\/shop\/products\/4_dcbf2936-098a-40cb-a4f7-e3e61b36d1de.jpg?v=1623262101","width":800},{"alt":null,"id":21209354731694,"position":4,"preview_image":{"aspect_ratio":1.0,"height":800,"width":800,"src":"\/\/www.lifesuny.com\/cdn\/shop\/products\/5_a8320baf-ee5e-462d-84c5-e6838767d246.jpg?v=1623262101"},"aspect_ratio":1.0,"height":800,"media_type":"image","src":"\/\/www.lifesuny.com\/cdn\/shop\/products\/5_a8320baf-ee5e-462d-84c5-e6838767d246.jpg?v=1623262101","width":800},{"alt":null,"id":21209354764462,"position":5,"preview_image":{"aspect_ratio":1.0,"height":800,"width":800,"src":"\/\/www.lifesuny.com\/cdn\/shop\/products\/6_b23147f1-de48-4406-ae86-4c43c2a85c6b.jpg?v=1623262101"},"aspect_ratio":1.0,"height":800,"media_type":"image","src":"\/\/www.lifesuny.com\/cdn\/shop\/products\/6_b23147f1-de48-4406-ae86-4c43c2a85c6b.jpg?v=1623262101","width":800},{"alt":null,"id":21209354797230,"position":6,"preview_image":{"aspect_ratio":1.0,"height":800,"width":800,"src":"\/\/www.lifesuny.com\/cdn\/shop\/products\/7_077ae041-5447-4ed1-969d-035772036803.jpg?v=1623262101"},"aspect_ratio":1.0,"height":800,"media_type":"image","src":"\/\/www.lifesuny.com\/cdn\/shop\/products\/7_077ae041-5447-4ed1-969d-035772036803.jpg?v=1623262101","width":800},{"alt":null,"id":21209354829998,"position":7,"preview_image":{"aspect_ratio":1.0,"height":800,"width":800,"src":"\/\/www.lifesuny.com\/cdn\/shop\/products\/8_3a46d4ad-fcb2-4cc4-a3c0-49ad8a6080ad.jpg?v=1623262101"},"aspect_ratio":1.0,"height":800,"media_type":"image","src":"\/\/www.lifesuny.com\/cdn\/shop\/products\/8_3a46d4ad-fcb2-4cc4-a3c0-49ad8a6080ad.jpg?v=1623262101","width":800},{"alt":null,"id":21209354862766,"position":8,"preview_image":{"aspect_ratio":1.0,"height":800,"width":800,"src":"\/\/www.lifesuny.com\/cdn\/shop\/products\/9_3d9bd35a-68b4-4522-83db-5bf5e0d824b0.jpg?v=1623262101"},"aspect_ratio":1.0,"height":800,"media_type":"image","src":"\/\/www.lifesuny.com\/cdn\/shop\/products\/9_3d9bd35a-68b4-4522-83db-5bf5e0d824b0.jpg?v=1623262101","width":800},{"alt":null,"id":21209354895534,"position":9,"preview_image":{"aspect_ratio":1.0,"height":800,"width":800,"src":"\/\/www.lifesuny.com\/cdn\/shop\/products\/10_8e5c357e-e348-4b1f-b2f8-d2914c657134.jpg?v=1623262101"},"aspect_ratio":1.0,"height":800,"media_type":"image","src":"\/\/www.lifesuny.com\/cdn\/shop\/products\/10_8e5c357e-e348-4b1f-b2f8-d2914c657134.jpg?v=1623262101","width":800},{"alt":null,"id":21209354928302,"position":10,"preview_image":{"aspect_ratio":1.0,"height":800,"width":800,"src":"\/\/www.lifesuny.com\/cdn\/shop\/products\/11_646ce56d-6dbe-46ee-89b6-0d376c8f6ba1.jpg?v=1623262101"},"aspect_ratio":1.0,"height":800,"media_type":"image","src":"\/\/www.lifesuny.com\/cdn\/shop\/products\/11_646ce56d-6dbe-46ee-89b6-0d376c8f6ba1.jpg?v=1623262101","width":800}],"requires_selling_plan":false,"selling_plan_groups":[],"content":"\u003cblockquote\u003e\n\u003cp\u003eRound Neck Pullover. Long Sleeve.\u003c\/p\u003e\n\u003cp\u003eSolid Color, Plus Size, Loose, Baggy, Oversize Tunic Tops.\u003c\/p\u003e\n\u003cp\u003eHide Your Belly, Make You Look Slim.\u003c\/p\u003e\n\u003cp\u003eIdeal To Pair With Jeans, Leggings Or Trousers.\u003c\/p\u003e\n\u003cp\u003eElegant To Show Off your Charming Curves.\u003c\/p\u003e\n\u003cp\u003eComfortable And Good Skin Feeling.\u003c\/p\u003e\n\u003cp\u003eAn Essential For Every Fashion Lady.\u003c\/p\u003e\n\u003c\/blockquote\u003e\n\u003cp\u003e\u003cspan style=\"color: #d26f6f;\"\u003e\u003cstrong\u003eSIZE TABLE\u003c\/strong\u003e\u003c\/span\u003e\u003c\/p\u003e\n\u003cp style=\"text-align: center;\"\u003e\u003cspan style=\"color: #94c76d;\"\u003e\u003cstrong\u003ePlease refer to the size table to avoid unnecessary problems.\u003c\/strong\u003e\u003c\/span\u003e\u003c\/p\u003e\n\u003cp style=\"text-align: center;\"\u003e\u003cimg src=\"https:\/\/cdn.shopify.cn\/s\/files\/1\/0356\/3048\/1544\/files\/c397efc275db80573d0516d5f61c9019_480x480.jpg?v=1587618624\" alt=\"\"\u003e\u003c\/p\u003e\n\u003cp\u003e\u003cspan style=\"color: #c76e6e;\"\u003e\u003cstrong\u003eSPECIFICATIONS\u003c\/strong\u003e\u003c\/span\u003e\u003c\/p\u003e\n\u003cdiv style=\"padding-left: 30px;\"\u003e\n\u003cstrong\u003eStyle:\u003c\/strong\u003e Casual, Sexy\u003c\/div\u003e\n\u003cdiv style=\"padding-left: 30px;\"\u003e\n\u003cstrong\u003eMaterial:\u003c\/strong\u003e cotton, spandex\u003c\/div\u003e\n\u003cdiv style=\"padding-left: 30px;\"\u003e\n\u003cstrong\u003ePattern:\u003c\/strong\u003e solid color\u003c\/div\u003e\n\u003cdiv style=\"padding-left: 30px;\"\u003e\n\u003cstrong\u003eCollar:\u003c\/strong\u003e round neck\u003c\/div\u003e\n\u003cdiv style=\"padding-left: 30px;\"\u003e\n\u003cstrong\u003eSize:\u003c\/strong\u003e S-3XL\u003c\/div\u003e\n\u003cp style=\"padding-left: 30px;\"\u003e\u003cstrong\u003eSeason: \u003c\/strong\u003eSpring, Autumn\u003c\/p\u003e\n\u003cp\u003e\u003cspan style=\"color: #c96a6a;\"\u003e\u003cstrong\u003ePACKAGE INCLUDED\u003c\/strong\u003e\u003c\/span\u003e\u003c\/p\u003e\n\u003cp style=\"padding-left: 30px;\"\u003e\u003cstrong\u003e1 * Loose Pullover\u003c\/strong\u003e\u003c\/p\u003e\n\u003cp\u003e\u003cspan style=\"color: #c96f6f;\"\u003e\u003cstrong\u003eNOTES\u003c\/strong\u003e\u003c\/span\u003e\u003c\/p\u003e\n\u003cdiv style=\"padding-left: 30px;\"\u003ePlease allow slight measurement deviations due to manual measurement.\u003c\/div\u003e\n\u003cdiv style=\"padding-left: 30px;\"\u003eDue to the different monitor and light effect, the actual color of the item might be slightly different from the color showed in the pictures.\u003c\/div\u003e"}
Loose Pullover Casual Tops
Adding product to your cart
Round Neck Pullover. Long Sleeve.

Solid Color, Plus Size, Loose, Baggy, Oversize Tunic Tops.

Hide Your Belly, Make You Look Slim.

Ideal To Pair With Jeans, Leggings Or Trousers.

Elegant To Show Off your Charming Curves.

Comfortable And Good Skin Feeling.

An Essential For Every Fashion Lady.
SIZE TABLE
Please refer to the size table to avoid unnecessary problems.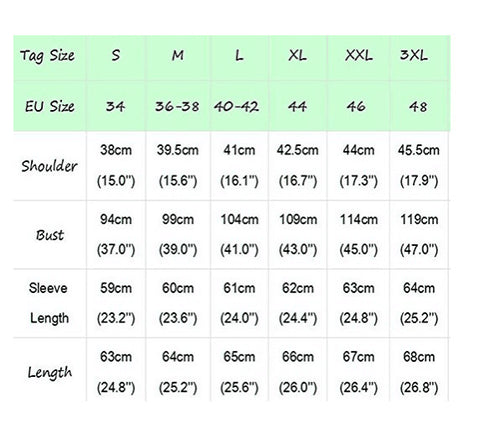 SPECIFICATIONS
Style: Casual, Sexy
Material: cotton, spandex
Pattern: solid color
Collar: round neck
Size: S-3XL
Season: Spring, Autumn
PACKAGE INCLUDED
1 * Loose Pullover
NOTES
Please allow slight measurement deviations due to manual measurement.
Due to the different monitor and light effect, the actual color of the item might be slightly different from the color showed in the pictures.