Start using the Stitch Line Positioning Zipper Foot on your machine! It really speeds up zipper sewing jobs.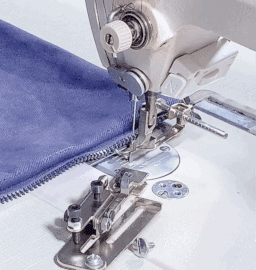 FEATURES
HANDS-FREE ZIP POSITIONING - This clip-on foot presses down on material so you don't need to keep it lined up with your hands. This makes it quick and easy to stitch in the zipper strip with your sewing machine.

UNIVERSAL ATTACHMENT - Our zipper foot is configured to fit all low-shank, snap-on sewing machines, including models from Singer, Viking, Brother, Pfaff, Janome, New Home, Mitsubishi and other manufacturers. Note that it is not intended for use with vintage, industrial or mini sewing machines.
SNAP-ON INSTALLATION - The zipper foot easily locks into the bracket of the sewing machine. You don't need to use a screwdriver or other tools to install the accessory. Simply press it into place. Removal is equally simple and quick. 

EASY ADJUSTMENT - You can adjust the height and width of the clamp that holds the zipper strip in position. Simply tighten or loosen the screws to get the fit you require. With proper adjustment, the zipper foot can be used for sewing cord and piping. 

HOW TO USE
Attach the zipper foot to your sewing machine by using the knobs to position it in place.
Prepare the fabric.
Pin the zip in place, making sure the zip teeth are centered on the seam line.
Start sewing.
When sewing an invisible zipper, simply use the edge of the foot to flatten the zipper teeth as you sew.

SPECIFICATIONS
Length: 120mm
Material: Stainless Steel
PACKAGE INCLUDED
1 * Positioning Zipper Foot